Week 3: September 22-23


Daily Gleaner | Sports - As published on page B1 on September 25, 2006
FHS top Kat in city grid rivalry
RUNAWAY KAT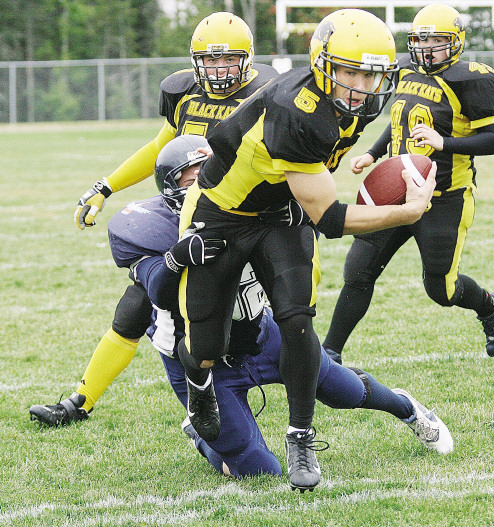 (THE DAILY GLEANER/DAVE SMITH PHOTO)
Fredericton High School Black Kats had pretty much won Saturday's provincial high school football league showdown with their crossriver rival Leo Hayes St. Mary's Lions while some of the crowd were still making their way from the parking lot.

Black Kats scored a touchdown on their first possession and two more in the first quarter enroute to a 42-0 hammering of the Leo Hayes St. Mary's Lions at Leo Hayes Field in the rain before an estimated 300 spectators.

The win gives FHS an unbeaten 3-0 record heading to Saint John next week for a showdown with the Saint John High School Greyhounds, also 3-0 on the season. That game could decide who finishes on top in the western division should a tie-breaker be needed. SJHS was a 48-6 winner over Oromocto High Art Wood Blues Friday in the port city.

The Lions, on the other hand, continue to search for their groove as they slip to 0-3 after the loss. They've yet to score while giving up 108 points against.

"It's a shame about the score," said Leo Hayes coach Lee Hoyt. "I hope people can understand what we're doing here though and see the progress. FHS has some great players, and they have guys who have won at this level. So this was always going to be a tough game for us. We knew that.

"But after we adjusted to that big backfield they threw at us, we did OK, particularly on defence. I think the kids did some pretty good things out there over the last three quarters."

Indeed. The last thing the Lions probably needed on Saturday was for the Black Kats to throw them a curve with a backfield that employed all of the various offensive weapons FHS usually uses in platoons.

"I wasn't expecting them to come out and empty the backfield," Hoyt said. "They put up 21 points really fast and we were behind the eight-ball so quick."

Four different FHS players scored five offensive touchdowns with the other supplied by the Kats' defence via an interception return.

"Every game we ask them to try something new," FHS coach Larry Wisniewski said. "We look to add something new that we will need if we are to have long term success as a program.

"We wanted to add some variety to what we could do offensively in our packages because we've been pretty predictable. We've been running with two backs and everybody knew it. We thought we'd spread the field a little bit and see what happens, so (offensive coordinator) Gary Norcott and (coach) Chuck Proudfoot designed this six back thing."

And it made a difference as a Leo Hayes team braced for one thing saw another and the other thing they saw was coming at them from all directions. But the success was based on more than the element of surprise.

"It makes it nice for (quarterback Andrew Hickey) in that he can look around and it changes the defence," Wisniewski said. "It reloads everybody outside and still means the other team has to deal with Andrew inside. It still needs fine tuning but it was a nice piece to add."

The Kats also employed a three back offence perhaps with an eye down the road to meeting the Greyhounds on a damp day in Saint John.

"We used some different things today," said FHS running back Sean Hutchins. "They are the kinds of things we will need the rest of the season. We've been working on the (new formations) and kind of surprised (Leo Hayes) today and because they worked so well we know we can use them any time down the road."

Hutchins was one of the Kats' who enjoyed the new sets, particularly in the second half as he ran the ball eight times for 69 yards. The converted rugby player has adjusted nicely and added depth to the FHS backfield.

"It's great," he said. "We have a lot of guys on this team who can get the job done. This is actually my first year playing the game and I pick up a lot from the guys ahead of me, but it feels good when I can get our there and contribute."

FHS got their first points of the day on a 19-yard run by Hickey inside of the first two minutes of the game, Zac Cann added the convert. Less than five minutes later Hickey hit Brad Jones with a seven yard scoring pass for the second major. Cann again converted. On the last play of the quarter Hickey plunged two yards for the third TD of the quarter again backed up by Cann's convert.

In the third quarter Hickey set up a touchdown with a 37 yard pass to Elliot Thompson setting the stage for a six yard run by Ben Collins. Cann again collected the extra point to make it 28-0.

Two plays after the kickoff return, the Kats' Dan Reid picked off a Brendan Cornford pass and returned it 30 yards for a touchdown to wrap up the scoring in the first half. This time with the rain falling on a slick field Cann had no chance to convert after a bad snap.

The only scoring in the second half came on a one yard plunge by Craig Prime, who replaced Hickey midway through the third quarter. Again the convert was lost to a slippery ball.

The final points came on a safety when Lions' running back Alex Roy was caught in the end zone by the FHS defence.

NB Telegraph-Journal | Sports - As published on page B9 on September 25, 2006
Harbour View offence posts big numbers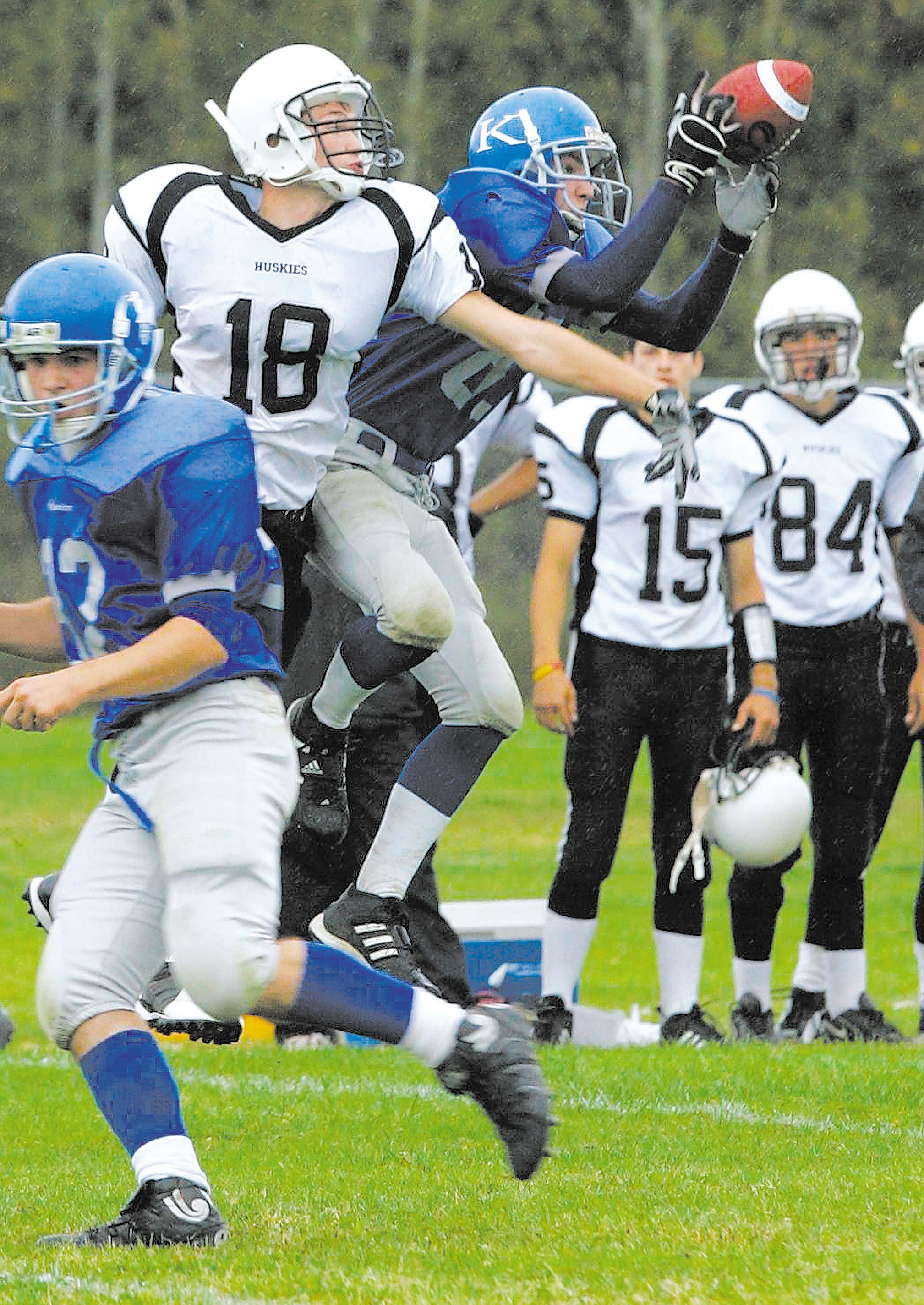 (NOEL CHENIER/TELEGRAPH-JOURNAL)
SALISBURY - Jeremy Monahan scored three touchdowns to lead the Harbour View Vikings to a 54-27 win over the J.M.A. Armstrong Cougars in New Brunswick High Football League 10-man division action.

Jordan Blizzard and John MacNabb tallied two touchdowns apiece for the winners while Mike Kurwin also notched a major, along with a stellar opening-game kickoff return that led to Monahan's first TD.

Nick Goddard, Matt Crossman and Zach Seely each recorded touchdowns for the Cougars, who trailed 27-14 at halftime.

In other 10-man action, the Simonds Seabees defeated the St. Malachy's Saints 39-16. Josh Davis and Stefan Wood each scored two touchdowns for the Seabees. Saints quarterback Eric Fallon threw TD passes of 70 yards and 20 yards to B.J. Clark. Fallon also ran in a pair of two-point converts. Meanwhile, another game saw the St. Stephen Spartans blank Rothesay 72-0.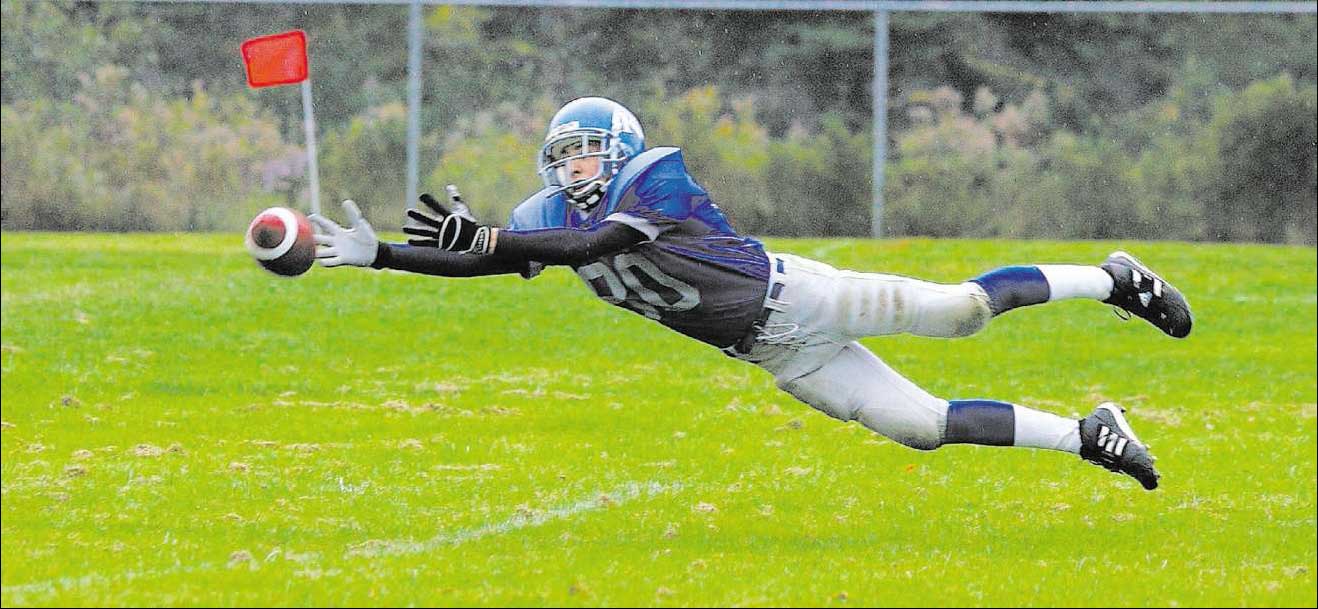 (NOEL CHENIER/TELEGRAPH-JOURNAL)
In 12-man action, the Hampton Huskies blanked the Kennebecasis Valley Crusaders 20-0. Kevin Morrell scored a first quarter touchdown on a three-yard run and Richard Monteith kicked the point after. Todd Floyd notched a TD on a 55-yard run in the third quarter. Todd Floyd scored a major on a six-yard run in the fourth quarter and Monteith added the single point.

In Tantramar, the hometown Titans topped the Moncton Purple Knights 28-1. Running back Jake Mundle scored a TD on a five-yard plunge and Callum Hardie kicked four converts. Moncton opened the scoring early in the first quarter when they punted the ball into the endzone for the single point.

In other games, it was Riverview 66 Odyssee 0; MacNaughton 21 Harrison Trimble 7; Saint John 48 Oromocto 6 and Fredericton 42 Leo Hayes 0.

Times & Transcript | Sports - As published on page D4 on September 25, 2006
Titans beat Knights; remain perfect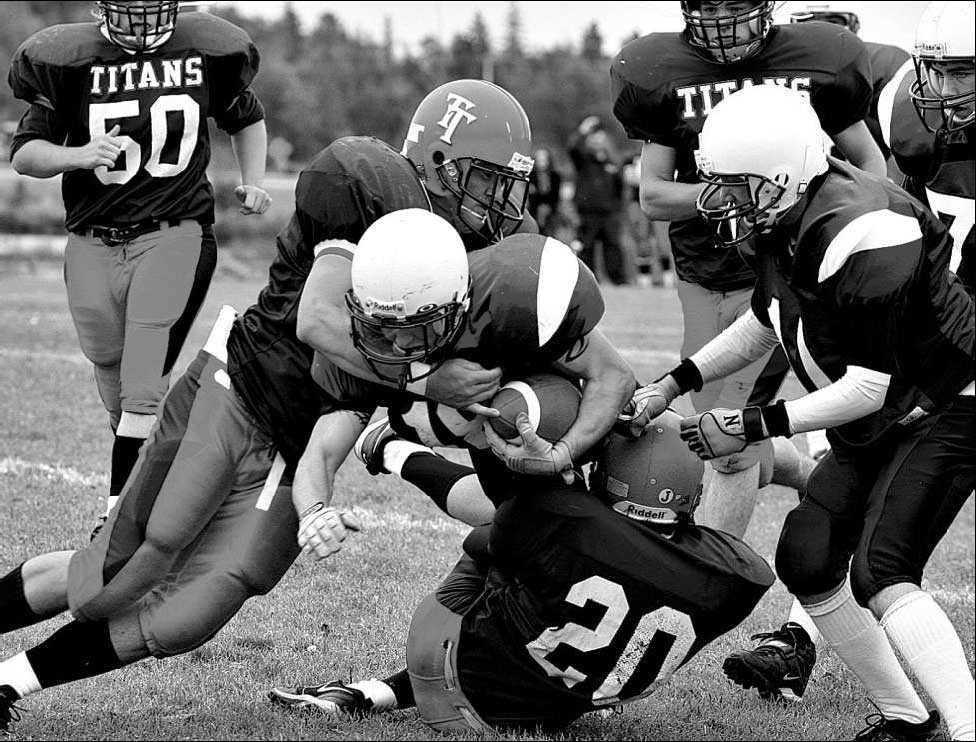 (JOEL CULLIGAN/TIMES & TRANSCRIPT)
SACKVILLE - Tantramar Titans like the look from up here.

Titans defeated the Moncton High Purple Knights 28-1 here Saturday to remain unbeaten at 3-0 in the New Brunswick High School Football League's 12-man division.

Tantramar sits in first place in the six-team Eastern Conference.

"We feel pretty good about where we are right now," Titans head coach Dave Burns said.

"I think having a lot of veterans back on both sides of the ball has really helped us jump into systems right away. We've got some Grade 12 seniors who are really rising up and playing hard."

Moncton High opened the scoring with a single, but it was all Tantramar after that.

Titans quarterback Joey Burns hooked up with Matt Landry on a 10-yard touchdown pass in the second quarter and Callum Hardie converted for a 7-1 halftime lead.

Burns was back at it in the second half, throwing a 20-yard pass to Stephen Bohan for another major.

Jake Mundle scored on a five-yard run and Scott MacDougall found the end zone on a 40-yard run for the Tantramar. Hardie finished with four converts on the afternoon.

Titans are pleased with their season to date, but know the road to a provincial championship is just getting started.

"I'm looking at our schedule and I see the hardest part is coming up. We have MacNaughton and Riverview High and Harrison Trimble, so we're just going to take it week to week," Dave Burns said.

"It gets harder from here and Moncton High gave us everything we could handle in the first half. The teams really even out as the season goes on with all the coaching and scouting."

MacNaughton Highlanders (2-0-1) and Riverview High Royals (2-0-1) are tied for second. Moncton High (1-2) is fourth and the Harrison Trimble Trojans (0-3) and L'Odyssée Olympiens (0-3) are in the basement.

Three games are scheduled for Friday. Riverview High hosts Moncton High at 4 p.m. in Riverview, Harrison Trimble takes on L'Odyssée at 4 p.m. at Rocky Stone Memorial Field and Tantramar visits MacNaughton at 7 p.m. at Rocky Stone.

In Western Conference weekend action, the Hampton High Huskies blanked the Kennebecasis Valley Crusaders 20-0; Fredericton High Black Kats blanked the Leo Hayes Lions 42-0 and the Saint John High Greyhounds thumped the Oromocto High Blues 48-6.

Meanwhile, the J.M.A. Armstrong Cougars lost 54-27 to the Harbour View Vikings in 10-man division play Saturday in Salisbury.

Jesse Elson threw 20-yard touchdown passes to both Jack Irving and Zack Seely for the Cougars (1-2). Justin Scott, on a 60-yard run, and Matt Crossman, on a one-yard plunge, had the team's other touchdowns.

J.M.A. Armstrong visits the St. Malachy's Saints (0-3) Saturday at 2:15 p.m. in Saint John.

Times & Transcript | Sports - As published on page C3 on September 23, 2006
Stingy defence carries Highlanders to key win
Purple Knights visit Titans this afternoon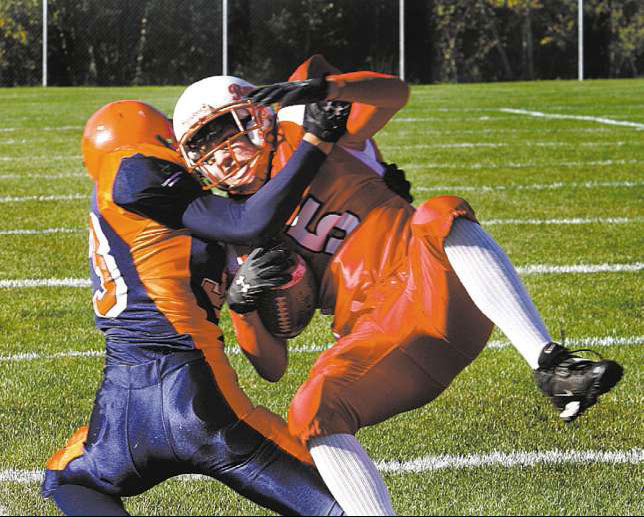 (RON WARD/TIMES & TRANSCRIPT)
They're tough, aggressive and are doing one heck of a job.

MacNaughton Highlanders' defence continued its stingy play last night, limiting the Harrison Trimble Trojans to just a fourth quarter touchdown in a 21-7 victory in New Brunswick High School Football League 12-man division action at Rocky Stone Memorial Field.

MacNaughton, which improved to 2-0-1, has allowed just 14 points - two touchdowns - in three games this season.

"The defence on our side has more heart and character than many I've coached. It's really a fantastic group," Highlanders head coach Ed Wasson said.

"The players on our defence all care. They care about every single yard they give up and play really hard."

Also yesterday, the Riverview High Royals pummelled the L'Odyssée Olympiens 66-0 in Riverview.

At Rocky Stone, MacNaughton made a goal line stand against Harrison Trimble in the second quarter of a 0-0 game and that set the tone for the rest of the night. Trojans did show some glimpses of offence, but could only muster a touchdown with 2:10 remaining on Nicholas Kukkonen's one-yard quarterback keep.

K.J. MacNeil's fake punt return helped set up the Highlanders' first touchdown, coming on a touchdown pass from quarterback Eric Daigle to Scott Kelly to put MacNaughton on the board.

Nathan Cormier also ran for another major in the third quarter and Daigle put the game away in the fourth quarter with a 58-yard touchdown pass to Nick Kaminsky for a 21-0 lead with 7:13 left to play.

Highlanders linebacker Ed McNally was pleased with the win, but said the team has room for improvement.

"The season's still a long way from being over and we'll go back to practice and work on getting better," the Grade 11 student said.

"Our defence has been getting some great plays from (linebacker) Justin Cook and our D-Line has been playing well, but we know we can be a lot better."

Harrison Trimble dropped to 0-3 with the loss.

"It's disappointing how we squandered quite a few opportunities again tonight," Trojans head coach Perry Kukkonen said.

"It's getting to that desperation point now where we need the guys to step up and they have to want it. They can't keep making the errors they have been because that's what's been costing us."

Moncton High Purple Knights (1-1) visit the Tantramar Titans (2-0) today at 1 p.m. in Sackville.

In 10-man division play today, the J.M.A. Armstrong Cougars (1-1) host the Harbour View Vikings (2-0) at 1 p.m. in Salisbury.




NB Telegraph-Journal | Sports - As published on page B8 on September 23, 2006
Football

Saint John earns win

SAINT JOHN- Eric Saulnier scored a pair of touchdowns as the Saint John Greyhounds downed the Oromocto Blues 48-6 in New Brunswick High School Football League action Friday before 500 fans at Shamrock Park.

Aaron Gordon, Geoff Greene, Joel Seale, Echer Marchial and Kaleb Jones added majors for the winners, now 3-0.

Chris Chesworth added six conversions.

Chris Hiller scored for Oromocto.

J.J. King recovered two fumbles for Saint John and Aaron Gordon had 12 tackles.




Daily Gleaner | Sports - As published on page B1 on September 22, 2006
Lions quarterbacks endangered species

So far this high school football season, quarterbacks for the Leo Hayes St. Mary's Lions football team have a lot in common with drummers for the fictional rock band Spinal Tap.

As that band's front man Derek Smalls said in the movie This Is Spinal Tap, "For drummers, it's a bit of an extreme sport to play with us."

So to is it to play at the pivot spot for the Lions in the 2006 season, although none of the Leo Hayes quarterbacks has spontaneously combusted as did one Spinal Tap drummer - at least not yet. But it certainly has been a tough position to play.

Tomorrow it may get tougher as the Lions host the Fredericton High School Black Kats in a 1 p.m. start at Leo Hayes Field.

The Black Kats are defending provincial champions and have got off to a flying start in defence of their crown. They're 2-0, outscoring opponents 61-20. The Lions, on the other hand, are 0-2 and have been outpointed 66-0.

In two games this season the Lions have had two quarterbacks helped off the field with injuries that have knocked them out of action for at least a few weeks.

In a week one loss to Hampton High School, MacKenzie Washburn broke his arm. He will be out for at least three more games, including this week.

Then last week, during a road loss to Saint John High School, backup QB Tommy Broad was knocked from the lineup indefinitely with a shoulder injury, according to Lions' coach Lee Hoyt.

"So now we're trying some new kids at the position," Hoyt said. "It's been tough because we had a real potentially great player in MacKenzie. You tend to put all your eggs in one basket in that case. And then we still had Broad to fall back on and lost him. It makes it hard to get that continuity you need at a key position."

Brendan Cornford is expected to handle most of the snaps from under centre for the Lions against FHS. Most of his quarterbacking has been done at the JV level.

"It's too bad that we only have a couple of losses to show for what we've done so far," Hoyt said. "In the Saint John game in particular we did some very good things. There were some key points in the game that didn't go our way and we ended up losing what looked like a one-sided game on the scoreboard.

"But we also got a chance to look at a lot of the kids who don't get to play so much and found out a few things about them, so that was a positive. From a coach's perspective you don't enjoy the outcome but you do take some things out of that kind of game that will stand us well in the future."

As for how to approach a game against a very strong FHS team at a time when the Leos could use a win, Hoyt isn't flinching.

"You have to play the cards you are dealt," said the coach. "We have some young players that are going to develop very nicely, so there's an aspect of anything could happen. We intend to be realistic in our approach. However, at the same time, we will prepare for this game as we do for any other."

And Hoyt has no intention of allowing his team to get drawn into allowing the Black Kats any psychological advantage even though FHS has a crew of veterans who know how to psych out young opponents.

"We know a lot of the FHS kids," Hoyt said. "I coached some of them, and I know they like to establish themselves right off the bat in games. If you let them get that jump on you, get caught up in the talking after whistle and such, it will be a mistake. I'm not a fan of that stuff and I want our kids to know that going out there on Saturday."

Meanwhile, the third of the three local high school teams is in action this evening as the Oromocto High School Art World Blues take their 1-1 record to Rocky Stone Park in Saint John for a 7 p.m. game with Saint John High School. The Greyhounds are off to a 2-0 start. The Tantramar Titans are also 2-0 atop the Eastern Conference. The Riverview Royals are next at 1-0-1.



Times & Transcript | Sports - As published on page D4 on September 22, 2006
Trimble in search of first win
Pair of high school football games scheduled for today
There's no panic yet among the Harrison Trimble Trojans, but they know they can't wait much longer to turn around their season.

Trojans are off to a 0-2 start to the New Brunswick High School Football League 12-man division campaign and will look for their first win tonight when they play the MacNaughton Highlanders (1-0-1).

Game time is 7 p.m. at Rocky Stone Memorial Field.

"We're a better team than we've shown. We've shot ourselves in the foot the last two weeks, we've had our chances but didn't capitalize. We're a better team than what people think we are right now," Harrison Trimble quarterback Nicholas Kukkonen said this week.

"We just have to execute this week. We've practised hard and look forward to playing (tonight) and I think we've got a lot to prove."

Also today, the Riverview High Royals (1-0-1) host the L'Odyssée Olympiens (0-2) at 4 p.m. in Riverview.

Trojans fell 16-0 to Riverview High in Week 1 and then lost 19-13 to the Tantramar Titans last week. Harrison Trimble led Tantramar 13-7 in the third quarter last week, but then gave up two straight touchdowns in the loss.

Kukkonen said a number of offensive penalties have stalled drives down the field.

"We've been in both games we've played, but I think we need a little different mind set. We have to work harder to minimize our errors in order to get a win. This league is tough this year with some good teams and there are not any easy games," said Kukkonen, who has moved to quarterback in his Grade 12 season after three years as a receiver.

"We have to just play like it is any other game and come out and get the job done, that's the bottom line. MacNaughton's got a good team and hasn't lost yet, so they are the favourites, but we're feeling pretty confident in our team and our capabilities."

MacNaughton thumped the Moncton High Purple Knights 48-0 in its season opener two weeks ago and battled Riverview High to a 7-7 tie last week.

"They've got a fast team with some good running backs and they're very aggressive on defence. We just have to come out and out execute them, that's what it's going to come down to," Harrison Trimble head coach Perry Kukkonen said of the Highlanders.

"We know we can compete with everyone in the league and we also know MacNaughton's a good team. This is going to come down to us playing a complete game - four quarters of football with few errors - with our offence moving the football and controlling the clock and our defence continuing to play the physical brand of football they've played the last two weeks."

Meanwhile, Nicholas Kukkonen, an all-star receiver a year ago, is learning on the job as the Trojans' new quarterback.

"It's an adjustment, that's for sure, and I really only have two games under my belt, but I'm going out there and trying my best and learning a lot," he said.

"It's a lot different than receiver, but I appreciate the fact my team has confidence in me back there and I'm trying to get used to it."

Tomorrow, Moncton High (1-1) visits Tantramar (2-0) at 1 p.m. in Sackville.

In 10-man division play, the J.M.A. Armstrong Cougars (1-1) host the Harbour View Vikings (2-0) tomorrow at 1 p.m. in Salisbury.