Week 4: September 29-30

NB Telegraph-Journal | Sports - As published on page B8 on October 2, 2006

Harbour View remains perfect

Simonds High School drops Rothesay in another thriller

SAINT JOHN - The Harbour View High Vikings roared back with four fourth-quarter touchdowns to stun the St. Stephen High Spartans 34-27 in a battle of unbeaten teams in New Brunswick High School Football League action on Saturday.

St. Stephen, now 3-1, led 14-8 at the half and 21-8 after three quarters before the 4-0 Vikings caught fire and began to click.

Jeremy Monaghan scored two touchdowns for Harbour View, including the clincher on a 45-yard run.

HVHS quarterback Jordan Blizzard also played a key role in the comeback as he rambled for an electrifying 80-yard touchdown just prior to Monaghan's heroics.

John Phillips and Mike Curwin had the other touchdowns for the Vikings, who will put their undefeated record on the line again Saturday when they tackle the 3-1 Simonds High Seabees.

Matt Sode had two touchdowns for the Spartans while Chris Parks and Joel Wilcox had the others.

Meanwhile, in another thriller, quarterback Matt Porter hooked up with Steve Oickle for a pair of fourth-quarter touchdown passes to lead the Simonds High Seabees to a 32-29 win over the Rothesay High Redhawks.

For Oickle, they were his second and third majors of the day as he also hauled in a 30-yard pass from starting quarterback Kyle Skerry to open the scoring in the first quarter.

Mike Cote responded with a 35-yard run of his own to knot the score 6-6. In the second quarter, the Seabees scored twice, a one-yard plunge by Jared Hamm and a 12-yard scamper by Josh Davis.

Rothesay countered with a beautiful 70-yard kick return by Cote and later trapped Simonds in their own end zone for two more points.

Chris Mitchell scored on a 20-yard reverse play for RHS which was converted by Cote to make 21-18 for Rothesay at the half.

After a scoreless third quarter, Porter hit Oickle for scores from 25 and 20 yards and Davis chipped in with a two-point convert to open a 32-21 lead.

The Redhawks refused to quit, scoring on a 30-yard pass fromn Cote to Greg Laprise and added a two-point convert from Rob Grant to make the final 32-29.

One other game saw the Kennebecasis Valley High Crusaders drop the Leo Hayes Lions 20-6.


Daily Gleaner | Sports - As published on page B1 on September 30, 2006


Blues: Close but no cigar against Hampton Huskies


Blues come up dry against Hampton





Like the fisherman who had no witnesses, the Oromocto High School Blues football team will be reminiscing about the one that got away.

The Art World Blues had fiirst down inside the 20-yard line of the Hampton Huskies eight times, and got it inside the 10-yard line four times Friday afternoon at OHS Field,

But they couldn't get to paydirt, losing 20-8 to the Hampton Huskies in New Brunswick High School Football League action.

"No question, we know what we'll be discussing when we talk this one over," said OHS coach Rob Wilson. "The chances that we left on the field. I would say at least two touchdowns. We just couldn't get the ball in the end zone today."

The win improved Hampton to 3-1 on the season while the Blues slip to 1-3 with their second straight loss.

A soggy crowd estimated at 350 braved a second quarter downpour that made it hard to see the other end of the field at times. The second half was played in a light, steady rain.

The tone for the game was set early as the Blues marched down the field on a couple of passes and a pass interference flag. They got inside the Hampton before bogging down. A 25-yard field goal attempt by Pete Mitchell with 6:40 to go in the quarter was low but netted the Blues a single.

The Huskies responded with a 10-play drive of their own, capping it off with a 10-yard TD run by Mike Brien.

"We didn't want to put the ball in the air today," said Huskies' quarterback Marcel Rochon, making his first start of the season in place of suspended starter Eoin MacIntyre. "I'm just back from an injury, and with the wind and rain we just wanted to grind it out along the ground."

The Blues went three and out on the ensuing kickoff, and it got worse when the Huskies' Matt Lamont blocked the punt, which bounced to teammate Clint MacGregor. He took it 25-yards for the major and Mike Dykens converted to make it 13-1.

The sudden turn of events might have taken their toll.

"It hurt but I don't think it did us in," said Wilson. "I think the fact that we just couldn't get anything going, we just didn't play with any confidence. That stretch didn't help but we had ample opportunities after that and couldn't make much out of them."

For instance, with four minutes left to half, they had first down on the Huskies 12, but could move it only two yards. Then, on the last play of the half, Jordan Gardiner broke a 60-yard run but was pushed out of bounds at the 10 by Mike Bolton.

It was more of the same in the second half: OHS started their first possession on the Hampton 25 after a bad snap on a punt gave them field position.

What followed was a nine-play eries involving penalties, recovered fumbles and a lot of slipping and sliding. It ended when Bolton picked off a Jordan Heather pass in the end zone. Wait: no it didn't; pass interference gave the ball back to OHS.

Bolton picked it off again on the next play though. Blues got it to the Hampton 13 on their next series before stalling out. They finally broke through on the first play of the fourth quarter though, picking up their own punt inside the Hampton 30 to set up a 12-yard pass from Heather to Chris Hillier with 9:08 still on the clock. Seth Gillian was good on the convert to bring the score to 13-8.

The Huskies answered with a methodical, clock-eating march up the field which ran it down to three minutes.

"They are a great line," Rochon said. "They have the size but they are quick, they allow us to control the game, to eat up time when we need to. They kept the pressure off me all day and that's a big reason we won the game."

Blues got it back for one last possession, but Heather fumbled on his own 30 and the Huskies scored with less than two minutes left to account for the final tally on an 18-yard run by Kevin Morell to complete the scoring.

In other games Friday, Riverview rolled over Moncton High 40-6, Harrison Trimble defeated L'Odysee of Moncton 48-23, Tantramar Titans beat the MacNaughton Highlanders 10-3 and the Fredericton High School Black Kats ran their Western Conference leading record to a perfect 4-0 with a 21-0 shutout of the Saint John High Greyhounds in the Port City.

Quarterback Andrew Hickey scored all three touchdowns for the Black Kats in the battle of previously unbeaten teams. Kats were up 14-0 at halftime. In action today, the Leo Hayes St. Mary's Lions, 0-3 and without a point thus far this season, are in Quispamsis to take on the Kennebecasis Valley Crusaders, also 0-3 on the year.


Times & Transcript | Sports - As published on page D1 on September 30, 2006




Tantramar keeps perfect record alive

Riverview High, Trimble also earn high school football victories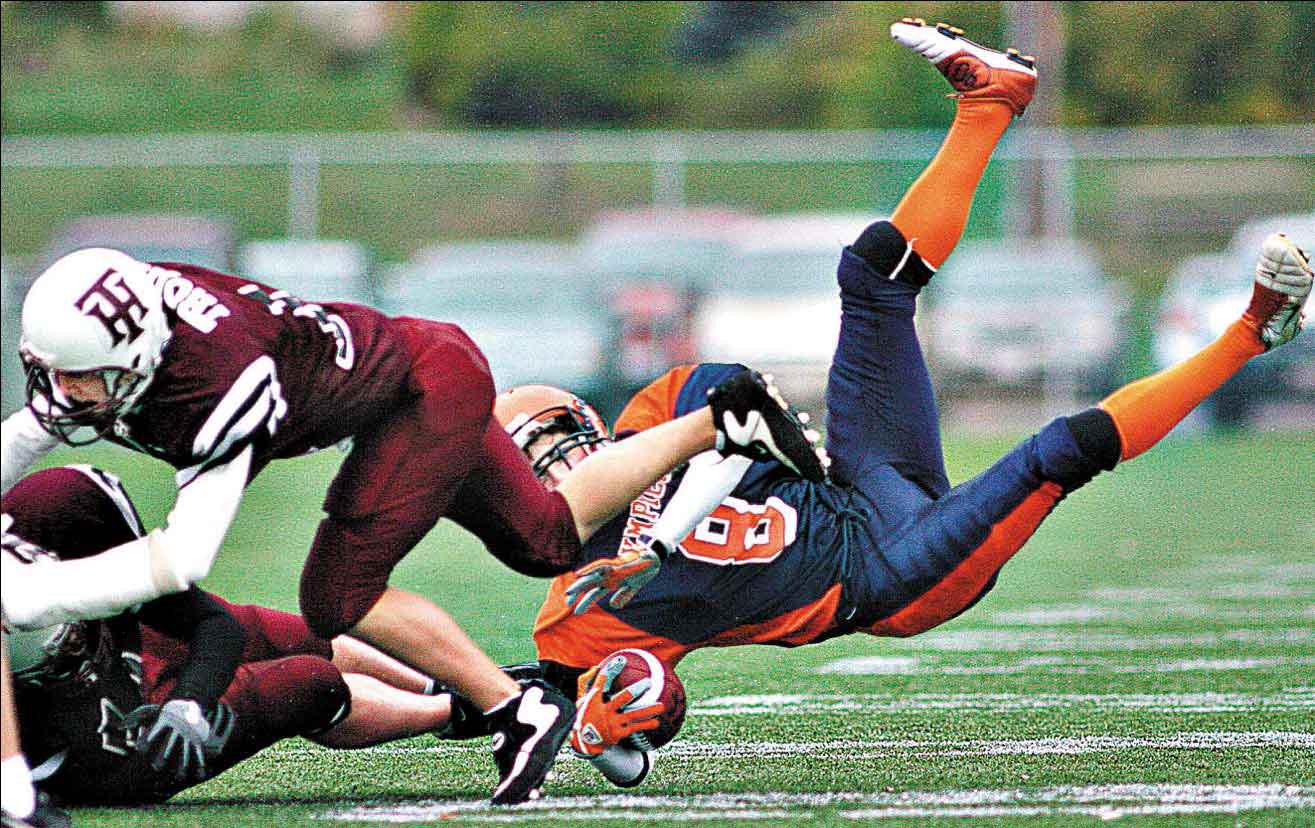 (VIKTOR PIVOVAROV/TIMES & TRANSCRIPT)
Tantramar Titans came prepared to make a statement and they delivered.

In their biggest test of the season to date, the Titans outlasted the MacNaughton Highlanders in a defensive battle and came up with a 10-3 win in New Brunswick High School Football League 12-man division action under wet conditions at Rocky Stone Memorial Field last night.

Tantramar sits alone in first place atop the Eastern Conference with a perfect 4-0 record. MacNaughton, now 2-1-1, dropped to third place with the loss.

"We wanted to prove we are the Titans, we come from Sackville and we came up to Moncton as underdogs and we wanted to show ourselves," said Titans veteran Callum Hardie, who played a strong game at receiver and cornerback, kicking a field goal and making two interceptions.

"We don't want to get too far ahead of ourselves, but this feels pretty good."

In other games yesterday, the Riverview High Royals thumped the Moncton High Purple Knights 40-6 and the Harrison Trimble Trojans beat the L'Odyssée Olympiens 48-23.

At Rocky Stone last night, Tantramar came alive on Hardie's third-quarter 30-yard field goal to tie the game 3-3 and rode the momentum the rest of the way to hand MacNaughton its first loss of the season.

With four minutes remaining in the fourth quarter and after a number of shots at the end zone, Titans quarterback Joey Burns punted a single to give the visitors a 4-3 lead. Running back Jake Mundle secured the win with his 15-yard touchdown run with 40 seconds left to play.

Using a balanced offensive attack featuring Tyler Nadolny on the ground and Burns hitting his receivers in the air, Tantramar was able to march down field in the second half.

"It was a real test for us and I thought we did a great job. We were up against a very good football team, but we hung in there and were down by three at halftime but knew we were playing good enough to win," Titans head coach Dave Burns said.

"I think it came down to better field position. At the end of the game, we were able to grind it out and make a couple passes and we were in the end zone."

Nathan Cormier kicked a 35-yard field goal for the Highlanders.

"Hats off to Tantramar, they have a good team," MacNaughton head coach Ed Wasson said. "I think the weather played a factor in our offence getting its wheels going, but our defence played a tremendous game. Our offence has to go back and re-tool."

Riverview High 40 Moncton High 6

In Riverview, Dan Fawcett ran for a pair of touchdowns in the Royals' victory over the Purple Knights.

Launce Burdock, Mike Miller and Greg Diamond ran for Riverview High's (3-0-1) other touchdowns. Andrew Lewis kicked a field goal and four converts in the win while Cameron Wilson also kicked a convert.

Ryan Wareham threw a touchdown pass to Kevin Monaghan for Moncton High (1-3).

Royals led 31-0 at the half.

Harrison Trimble 48 L'Odyssée 23

At Rocky Stone, the Trojans rallied from a 20-13 deficit at halftime to beat the Olympiens for their first victory of the season.

Tailback Dave Arsenault rushed for four touchdowns in the second half for Harrison Trimble (1-3).

"L'Odyssée played with a lot of emotion, but we were able to get the momentum back with a touchdown late in the first half then we regrouped at halftime," said Trojans coach Perry Kukkonen.

Arsenault finished the game with 250 yards rushing and fullback Justin Melanson added another 100.

Kukkonen said the offensive line "took control and played a great game to anchor the offence."

Nick Kukkonen added two majors for Harrison Trimble and Matt Steeves had one. Robbie Dobson converted six of the seven touchdowns.

Nathan Jeffrey chipped in with a key interception in the fourth quarter.

Pierre Mouawad, with a pair, and Daniel LeBlanc had touchdowns for the Olympiens (0-4). Scott LeBlanc added two converts and a 40-yard field goal
NB Telegraph-Journal | Sports - As published on page B8 on September 30, 2006
Fredericton maintains perfect mark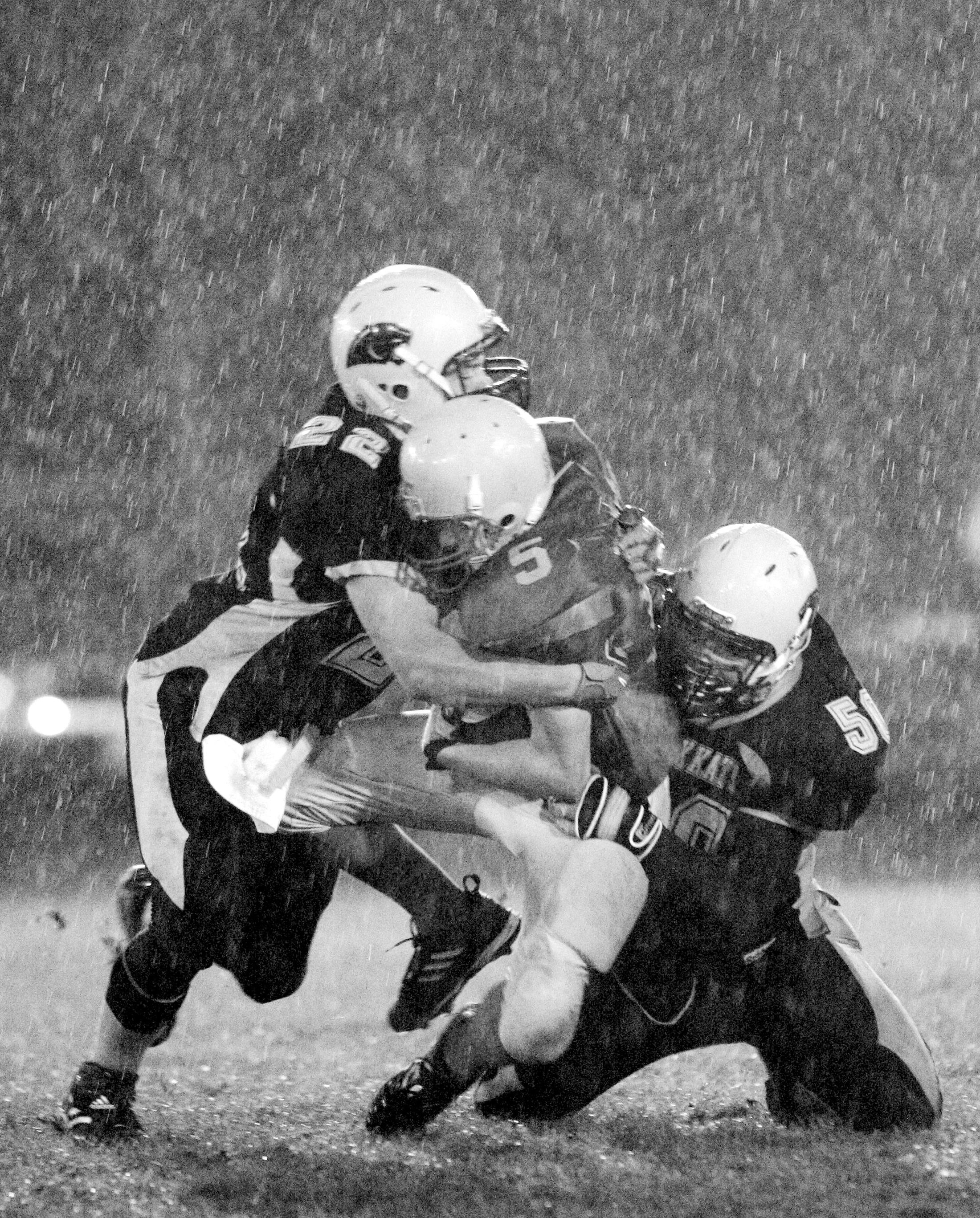 (NOEL CHENIER/TELEGRAPH-JOURNAL)
SAINT JOHN - The Fredericton Black Kats took a big step toward the Western Conference football title in the New Brunswick Interscholastic Athletic Association Friday with a 21-0 victory over the Saint John Greyhounds.

Saint John fell to 3-1 with the loss while the Black Kats improved to 4-0.

Fredericton quarterback Andrew Hickey scored all three touchdowns on runs of eight, one and five yards.

Fredericton led 14-0 at the half.

Meanwhile, the Hampton Huskies had no trouble on the road with a 20-8 victory over the Oromocto Blues Friday in New Brunswick Interscholastic Athletic Association Football play.

Oromocto opened the scoring with a single point on a missed field goal in the first quarter but Mike Brien of Hampton countered with an 11-yard touchdown run to end the first quarter. The conversion was blocked. Hampton's Matt Lamont blocked a punt to start the second quarter and teammate Kevin Morrell picked it up and ran it in for a touchdown, Mike Dykens kicked the conversion. Morrell added another major in the fourth quarter and Dykens kicked the convert.

Riverview 40 Moncton 6

Dan Fawcett ran for a pair of touchdowns in the Royals' (3-0-1) convincing victory over the Purple Knights (1-3).

Launce Burdock, Mike Miller and Greg Diamond ran for Riverview High's other touchdowns. Andrew Lewis kicked a field goal and four converts in the win while Cameron Wilson also kicked a convert.

Royals led 31-0 at halftime.

Trimble 48 L'Odyssee 23

Harrison Trimble rallied from a 20-13 deficit at halftime to beat L'Odyssee Olympiens 34-20 for their first victory of the season. Trojans are 1-3 and the Olympiens are 0-4.

Tail back Dave Arsenault rushed for four touchdowns in the second half for the Trojans.

Arsenault finished the game with 250 yards rushing and fullback Justin Melanson added another 100.

Today, another powerhouse matchup is slated for the 10-man division when the St. Stephen Spartans (3-0) hook up with the Harbour View Vikings (3-0) at Shamrock Park beginning at 11:30 a.m.

St. Stephen kept its perfect record intact by hammering Rothesay 72-0 last weekend while Harbour View moved to 3-0 with a 54-27 decision over the J.M.A. Armstrong Cougars.

Harbour View enters the contest with 131 points and just 48 against in three games while St. Stephen has produced 127 points on offence and allowed just eight against.

Last year, St. Stephen swept the season series with 34-0 and 33-0 victories while in 2004 St. Stephen won the regular season meeting 26-19 before Harbour View got some revenge with a 27-20 triumph in the playoffs. In other 10-man division action today, St. Malachy's hosts JMA at Shamrock park at 2:15 p.m.

NB Telegraph-Journal | Sports - As published on page B10 on September 29, 2006
Showdown at the Shamrock
Saint John High School hosts Fredericton in highly-anticipated battle of unbeaten teams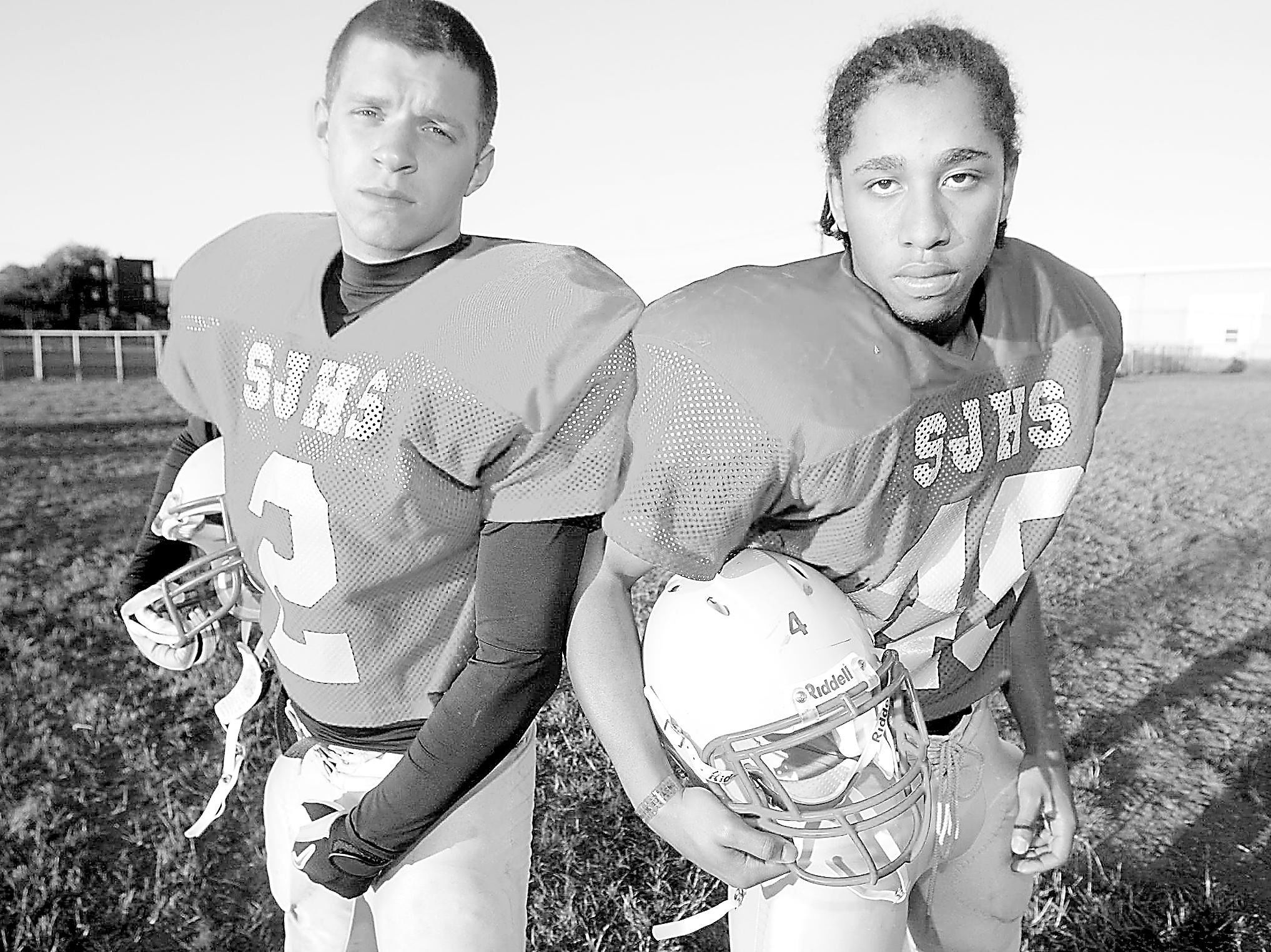 (PETER WALSH/TELEGRAPH-JOURNAL)
SAINT JOHN - It's the game both teams have been waiting for.

Actually, the rest of the New Brunswick High School Football League is probably pretty anxious, too. That's the type of hype two top AAA teams create before clashing.

"It's going to be a war," said Saint John Greyhounds head coach Dave Grandy, whose team hosts the Fredericton Black Kats Friday at 7 p.m. at Shamrock Field. "Whoever made up the schedule did a pretty good job."

Both teams bring 3-0 records into the gridiron grudge match. And both have been dominant in their wins. Saint John has defeated its opponents by an average score of 43-8, while the Black Kats have humbled foes to the tune of 34-7.

"We've each had three games to get our acts together," Grandy said. "This will be a true test. There will be some big boys in some big collisions."

Grandy's Greyhounds are powerful on both sides of the ball. The offence revolves around quarterback Nick Bonner, whose outlets include running backs Eric Saulnier, Geoff Green and slotback Joel Seale. Players looking to shut down the Black Kats' attack include secondary stalwarts Chris Ogden and Aaron Gordon, along with defensive lineman Jeremy Fawcett, defensive tackle Jarred McGowan and middle linebacker John Livingston.

The Black Kats defeated the Greyhounds handily last season in Fredericton, but the previous year's contest was closer, with the Capital City squad winning 14-7 at Shamrock.

"I think part of what happens when teams play Fredericton is they spook themselves," Grandy said. "They've been so good for so long.

"There's a buzz around the city. I've been talking with some former players and coaches and there should be a good crowd to see how we match up against them. If the game is close, anyone can win it in the fourth quarter."

Last weekend, it was if the teams were trying to upstage each other. Saint John bombed the Oromocto Blues 48-6 while Fredericton, the defending provincial champions, blanked the Leo Hayes Lions 42-0. The Black Kats' offence is led by lineman Ben Thompson and they have a quality quarterback in Andrew Hickey.

"Sometimes I think we're OK, sometimes I think we're in trouble," Fredericton head coach Larry Wisniewski said. "It's hard to get a sense of where you are after three games. You usually have a better sense after the fifth or sixth game.

"Saint John has a good team and they've already enjoyed some success. We're looking forward to that test."

Meanwhile, there's plenty more action on this weekend's high school football docket. Friday's other games include Harrison Trimble visiting Odyssee at 4 p.m.; Tantramar at Bernice MacNaughton at 7 p.m.; Moncton at Riverview at 4 p.m., and Hampton at Oromocto at 4 p.m. Saturday's schedule features Leo Hayes at Kennebecasis Valley at 1 p.m., and a trio of 10-man tilts, including Simonds at Rothesay at 1 p.m., St. Stephen at Harbour View at 11:30 a.m., and J.M.A. Armstrong at St. Malachy's at 2:15 p.m.

Times & Transcript | Sports - As published on page D3 on September 29, 2006
Tantramar puts perfect football record on the line

The rebuilding seasons are over and the Tantramar Titans know this is their time to shine.

Titans, who feature 30 veterans in their lineup, have roared out to a 3-0 start to the New Brunswick High School Football League 12-man division season and sit in first place in the Eastern Conference.

"I remember our team three years ago was really young and we probably played a few guys who weren't really ready to play," Tantramar head coach Dave Burns said this week.

"At the same time, those guys who played when they were young are our team leaders now. Stephen Bohan, Scott MacDougall, Joey Burns, Callum Hardie, Preston Spence, Jamie Milner, these were the guys who took their lumps. I remember one game two years ago we went down to Oromocto and got thumped pretty bad, but these guys have a lot of games under their belt now and that is a big help this year."

Titans visit the MacNaughton Highlanders (2-0-1) tonight at 7 p.m. at Rocky Stone Memorial Field.

Also today, the Riverview High Royals (2-0-1) host the Moncton High Purple Knights (1-2) at 4 p.m. in Riverview and the Harrison Trimble Trojans (0-3) play the L'Odyssée Olympiens (0-3) at 4 p.m. at Rocky Stone.

Tantramar is in first place in the six-team Eastern Conference, one point ahead of both MacNaughton and Riverview High, who are tied for second. Moncton High is fourth and Harrison Trimble and L'Odyssée are winless in the basement. The top four teams make the playoffs.

Titans have lost in a provincial quarter-final in each of the past six seasons, but hope this is the year they win their first New Brunswick championship since 1997.

"It's been a rebuilding process the last three years, but this is the most returnees we've had at Tantramar in a long time," Burns said.

"We have a lot of seniors, but we'll also have a lot of players back next year. The meat of our roster is Grade 11 players. If we're going to have success, it's going to be this year or next year."

Tantramar has a tough task in facing MacNaughton tonight. Highlanders have yet to lose this season and are led by a stingy defence, which has given up just 14 points in three games.

"It's a pretty big matchup for both teams with first place on the line. We know we'll have our hands full with MacNaughton," Burns said.

"We're coming into the meat of our schedule with some really tough games ahead, so we'd like to start it off well with a win."

One player who has helped the Titans to the 3-0 start is Grade 12 senior Scott MacDougall.

He rarely leaves the field, playing linebacker on defence, slotback/fullback on offence and also seeing special teams duty.

"He's some football player, we can put him anywhere. He's a big strong kid, very athletic and very intense. He's the most intense guy on the field," Burns said.

"In the first couple of week, and not to take anything away from (slotbacks) Callum Hardie and Stephen Bohan and (quarterback) Joey Burns, he's probably been the most dominating player for us."

Meanwhile, the J.M.A. Armstrong Cougars (1-2) visit the St. Malachy's Saints (0-3) tomorrow at 2:15 p.m. in Saint John in a 10-man division game.