Week 6: October 13-14


NB Telegraph-Journal | Sports - As published on page B7 on October 16, 2006
Vikings ramble to 6-0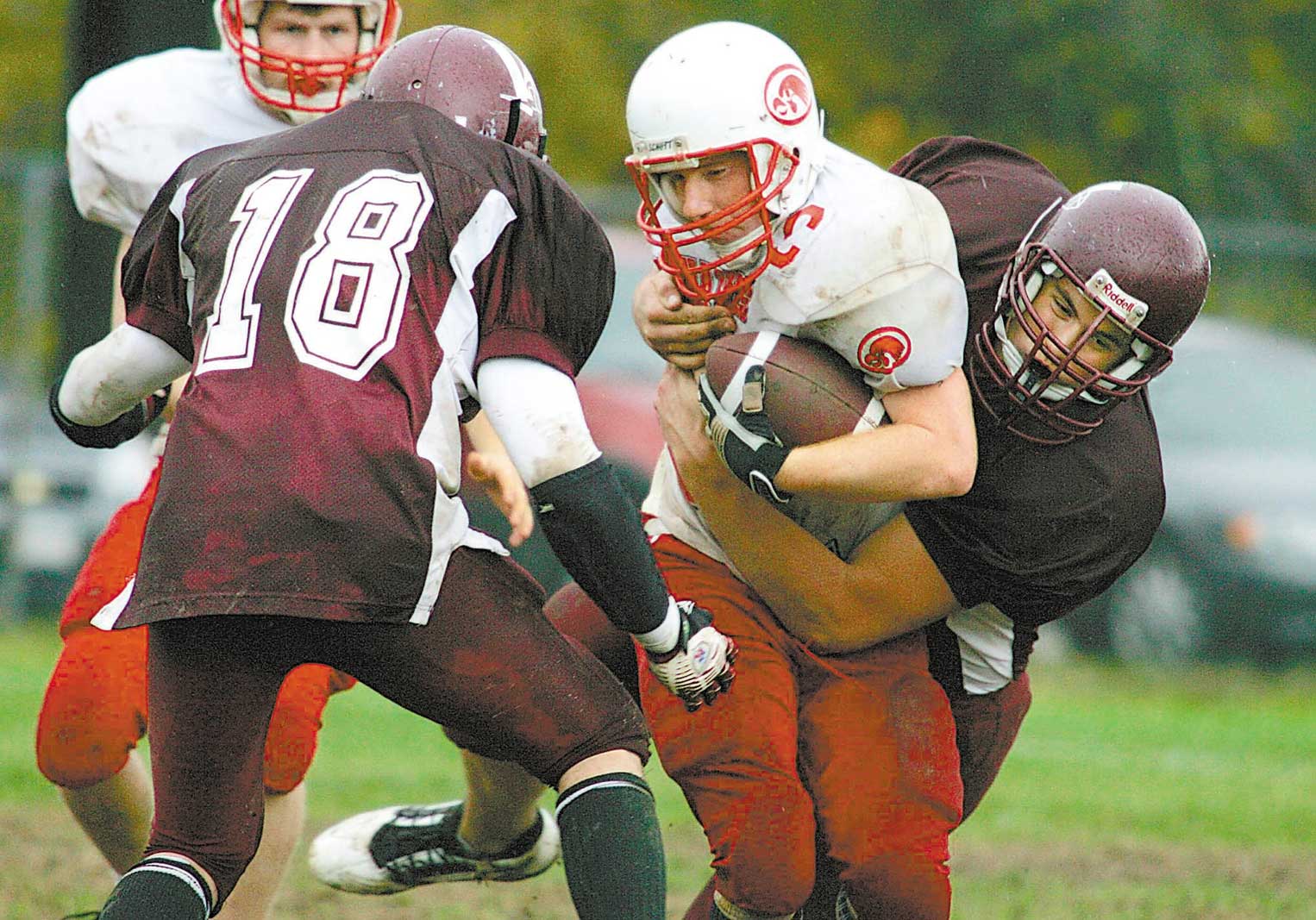 (CINDY WILSON/TELEGRAPH-JOURNAL)
SAINT JOHN - The Harbour View Vikings are showing no signs of slowing down. In fact, it appears the undefeated 10-man team is still picking up steam in the late going of the New Brunswick High School Football League.

Fueled by a four-touchdown performance from Jon McAdam and a 17-point outing from Jeremy Monaghan, the Vikes (6-0) defeated the Rothesay Redhawks 53-28 Saturday at Shamrock Field.

Rothesay's Mike Cote scored a touchdown to open the scoring in the first quarter, but Harbour View didn't take long to respond. McAdam notched his first of four majors, followed by Monaghan's first TD of the contest.

Cote came back with another touchdown to keep the Redhawks in the game, but the Vikes countered when Craig Waycot found the end zone from six yards out. Rothesay's Rob Grant answered with a touchdown to tie the tilt 20-20, only to have Monaghan score again on a 75-yard pass-and-run play. That gave the Vikes a 27-20 halftime lead they would not relinquish.

McAdam added to the onslaught with two more TDs in the third quarter, scoring a 55-yard major before bringing the ball into the end zone from 45 yards out.

Rothesay's Matt Nicholson scored a TD from three yards out before the Vikings completed the rout in the fourth quarter on touchdowns by Mike Curwin and McAdam. Aside from his two touchdowns, Monaghan's banner performance also included five converts. Grant recorded a pair of two-point converts for the Redhawks.

In other 10-man action, it was St. Stephen Spartans 59 St. Malachy's 0; and J.M.A. Cougars 26 Simonds Seabees 22.

In 12-man action, it was Saint John 28, Hampton 7; Moncton 28, Odyssee 21; MacNaughton 14, Riverview 10; Harrison Trimble 33, Tantramar 0; Oromocto 34, Leo Hayes 21; and Fredericton 59, Kennebecasis Valley 20.

Daily Gleaner | Sports - As published on page B3 on October 16, 2006
Black Kats without peer in high school football
RUNNING WILD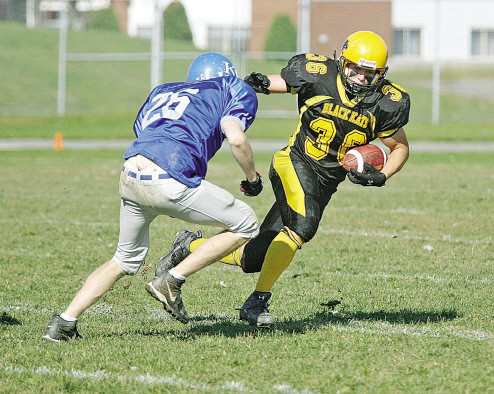 (The Daily Gleaner/David Smith photo)
In a single afternoon, the Fredericton High School Black Kats gave up as many points as they've allowed all season, allowing the Kennebecasis Valley Crusaders to score 20 points. It also snapped the Kats' shutout streak at three games.

So, it was a good thing they scored 59 points themselves to remain unbeaten atop the west division of the provincial high school football league a 6-0 record.

Indeed, the big question might have been how FHS found the time to allow 20 points while they were busy scoring so many themselves in their 59-20 rout of the Crusaders.

"They have some good players, and some big plays that they run," said Black Kats' defender Ben Collins. "Give them credit. They have a good offence but their defence just couldn't stop us."

Indeed. By the time the game was just over three minutes old, the Black Kats had established a 21-0 lead and well, really, that was that.

It was a sequence that knocked the air out of the game very quickly, leaving most of the 200 or so gathered shuffling around wondering what to do for the next couple of hours.

On the second play from scrimmage, Chris Murray of the Kats picked off a pass and returned it to the 21-yard line of KV. Two plays later, on the Crusaders one, FHS fumbled the ball on the exchange and it squirted loose in the end zone where Collins picked it up for the touchdown. It was clearly going to be that kind of a day. Zac Cann nailed the convert to make it 7-0 before many fans had even found their place to sit.

KV got the ball back but were two and out and forced to punt. Kats' Dave Kingston returned the ball to the visitors 28. Three plays later, quarterback Andrew Hickey found Kingston in the end zone for a 10-yard score. The Cann convert made it 14-0.

KV again got the ball back and again was punting after two plays. This time, however the snap sailed over the head of punter Brian Bridgen and the Kats recovered on the KV one. On the next play, Collins followed his blockers for the major. Cann connected and it was 21-0.

"This can be a tough place to come for your first time," Collins said. "KV played in the 10-man league last year and we were the best team at the 12-man level, so it's tough for them. They are a good team and I don't think they were all that put off by being at our home field. Maybe a little. I think it had more to do with them still adjusting defensively to playing at the 12-men level and a lot to do with our offence playing really well today."

The Crusaders certainly were good enough to move the ball most of the time after they had weathered the initial storm of that opening onslaught. They answered Collins' second touchdown with one of their own, a five-yard keeper by Bridgen. But what scoring they did do was window dressing to the overall scheme of things.

FHS answered that one touchdown with three of their own. Hickey hooked up with Simon Bissonette for a 30-yard pass and run, Connor Embleton scooped up a fumble and returned it 40-yards for a touchdown and Zach Piers rumbled three yards to make it 42-6. Cann methodically converted each and every touchdown.

Bridgen tossed a TD pass to Charlie Harroum to make it 42-12 late in the first half but that just seemed to stir up the Black Kats. With less than a minute to go, they replied with a four play drive capped off by a Hickey to Tony Chauvin for the major and Cann convert.

And before the intermission they struck once more, this time it was Cann splitting the uprights with a 20-yard field goal to make the score 52-12 at the half.

By design of all those involved, the second half flew by with very little done on either side to slow the march of time. The teams exchanged touchdowns, Hickey hitting Corey Bordage on a 30-yard pass play to account for the FHS touchdown with Cann converting. Bubba Flynn replied with a 20-yard run for KV who added a two point convert.

In other action, Saint John High Greyhounds improved to 5-1 with a 28-7 win over Hampton Huskies, now 4-2 in west conference play. OHS had defeated winless Leo Hayes High Lions 34-21 Friday.

In east conference play Saturday, Harrison Trimble High Trojans hammered Tantramar High Titans of Sackville 33-0, improving to 3-3 and dropping the Titans to 4-2.

On Friday, Moncton High improved to 2-4 with a 28-21 win over winless, 0-6, Ecole L'Odyssee and Bernice MacNaughton upset Riverview High 14-10 to move into a first place tie with the Royals, each sporting 4-1-1 records.

Kats play Oromocto High Friday at 3 o'clock at OHS to complete the regular season schedule for both teams.

Times & Transcript | Sports - As published on page D1 on October 16, 2006
Trimble extends streak
SACKVILLE - Harrison Trimble Trojans are getting hot at the perfect time of year.

After starting the season with three straight losses, the Trojans won their third straight game - a 33-0 shut out of the Tantramar Titans - in New Brunswick High School Football League 12-man division action here Saturday.

With the win, Harrison Trimble evened its record at 3-3 and locked up the fourth and final playoff spot in the Eastern Conference with one week remaining in the regular season.

Tantramar, which started the season 4-0, has now lost two in a row and sits in third place in the conference with a 4-2 record.

Running back Dave Arsenault scored two of his three touchdowns runs in the first quarter and Harrison Trimble never looked back for the convincing victory Saturday.

"You want to go into the playoffs with as much momentum as possible and lately we've had the momentum," Trojans head coach Perry Kukkonen said.

"We've been talking about playing four strong quarters and using a total team effort to have success on the weekends and the guys came out and gave us that. It was a good all around game - offensively, defensively and special teams - and we pretty much shut them down."

Arsenault paced Harrison Trimble with three touchdowns runs. He scored from 40, 30 and three yards out.

Nicholas Kukkonen added a major on a 65-yard punt return and Justin Melanson closed out the Trojans scoring with a two-yard plunge for another touchdown. Jordan Kenny kicked three converts in the win.

Harrison Trimble led 20-0 at halftime.

Kukkonen said he never doubted this season's team, even when it was 0-3 and needed wins in a hurry to make the playoffs.

"I knew this was our potential from Day 1, it was just a matter of it kicking in before it was too late. The games we lost we felt we could have easily won, but we were making too many mistakes with turnovers and not converting in the red zone and we've really focused on tightening those things up," the coach said.

"We started the momentum by beating L'Odyssée two weeks ago and then winning the Homecoming Game (over Moncton High) last week and I think that carried into our game against Tantramar. The kids are really believing in themselves right now."

With one week remaining in the regular season, the MacNaughton Highlanders (4-1-1) and Riverview High Royals (4-1-1) are tied for first place, followed by Tantramar (4-2) in third and Harrison Trimble (3-3) in fourth. Moncton High (2-4) is fifth and the L'Odyssée Olympiens (0-6) are sixth.

Three games are scheduled for Friday. Harrison Trimble visits Riverview High at 2:30 p.m., L'Odyssée hosts Tantramar at 4 p.m. at Rocky Stone Memorial Field and MacNaughton and Moncton High meet at 7 p.m. at Rocky Stone.

Fredericton High Black Kats (6-0) sit atop the Western Conference ahead of the Saint John High Greyhounds (5-1), Hampton High Huskies (4-2), Oromocto High Blues (2-4), Kennebecasis Valley Crusaders (1-5) and Leo Hayes Lions (0-6).

10-man Division

In Salisbury, the J.M.A Armstrong Cougars squeaked out a 26-22 win over the Simonds Seabees on Saturday.

J.M.A. Armstrong and Simonds are tied for third place at 3-3.

Special teams made the difference as the Cougars caused numerous turnovers with Ryan Gaynes scoring on a punt return. Justin Scott also had two scores on long runs and Brandon Douthwright sealed the game, catching a halfback option pass from Codey Leaman.

J.M.A. Armstrong visits the St. Stephen High Spartans (5-1) Saturday at 1 p.m.

Daily Gleaner | Sports - As published on page B2 on October 14, 2006
Grid Blues clinch playoff berth
At times, the two New Brunswick High School Football League teams which met at Leo Hayes Field Friday afternoon looked like a pair that had combined for a 1-9 record this season.

At other times, it was hard to believe they could be that bad.

Specifically the Oromocto High School Art World Blues and Leo Hayes St. Mary's Lions looked great when they had the ball and not so great when they didn't.

A couple of frustrated offensive units finally broke out and had a big day as the Blues outlasted the Lions 34-21 in an entertaining contest that likely sent both defensive coordinators home muttering glumly.

On the other hand, the 300 or so fans pretty much enjoyed themselves and both offensive coordinators had to be pretty happy. The Lions, who had scored just one touchdown all season coming into game six on their schedule, gathered 285 yards in offence, 174 of them through the air.

"It was a good game for us in a lot of ways," said Jacob Thomas, who scored two of the Lions' three touchdowns on the day.

"We can be a little satisfied with the things we did on offence, but we still didn't get the win."

The Blues used their "Air Jordan" attack of quarterback Jordan Heather for 245 yards through the air, 104 of those to Jordan Richards. OHS added 120 more on the ground for a total of 365 yards of offence.

But the Lions did go where they haven't been before. They led a game for the first time all season, and they did it twice. Their 21 points were more than three times what they managed in the previous five games.

"It's a step up for us," Thomas said. "But really it's not enough. We came out today with a goal of winning to keep out playoff hopes alive. We didn't get it done in the end." Indeed the Lions slipped to 0-6 with the loss and were eliminated from playoff contention. The Blues clinched a spot in the post season with the win, improving their record to 2-4. They host the Fredericton High School Black Kats in what looms as a preview of the first round playoff matchup the following week.

"We really knew we needed to get it done today," said Blues tight end Ryan Metcalfe, who scored three touchdowns. "We didn't want to go up against FHS next week needing to win to go on to the playoffs. We have a lot of respect for (Leo Hayes). They've had a tough season like us, but we wanted the win badly."

Things started out in the game looking very good for the Lions: running back Mitch Cormier ripped off runs of 25 and then 22 yards on the first two plays from scrimmage. But the drive stalled on the OHS 19-yard line.

Later in the first quarter the Lions scored a touchdown that will rank high in their season highlights as quarterback Brendan Cornford hit Thomas for a 110 yard pass and run to open the scoring.

"That felt good, I'm a little happy about that," Thomas said. "We got off to such a great start and that (play) felt so good. Brendan made a great read to find me over the defence."

Cormier hit the PAT and just like that the Lions led, foreign territory to that point in the 2006 campaign.

Oromocto bounced back with a touchdown of their own with Heather hooking up on an 11-yard strike with Metcalfe early in the second quarter. Blues took over the lead when Heather found Jordan Richards on a 50 yard pass-and-run with 3:27 left in the half.

The Lions bounced back however, scoring with 54 seconds left in the half on a 29-yard strike from Cornford to Thomas. Cormier hit the convert to make it 14-13.

But Air Jordan got the Blues back in the lead at the half as Heather marched the Blues from his own 40-yard line with 23 seconds left. The third and final play of the drive was an 11-yard TD pass to Richards. Blues missed the convert, but took a 19-14 lead and a shot of confidence into the break.

"It gave us momentum," Metcalfe said. "At the half the coaches just kept talking us up, they told us to keep doing what we were doing. If we didn't have that lead at that point maybe they would have said something else."

The momentum carried into the second half with Heather throwing to Metcalfe for six midway through the third quarter. Four minutes later he found his tight-end across the middle for another major pretty much putting the win in the bag.

Mike Bowser returned a punt 40 yards for the Lions final touchdown with 3:48 left on the clock. The Blues' final points came on a safety when Ryan Jackson tackled Cornford in the Lions' end zone.

In other Friday night action, the Moncton High Purple Knights topped the L'Odyssee Olympiens 28-21. Today at 1 p.m. the Black Kats play their final regular season home game when they host the Kennebecasis Valley Crusaders in a 1 p.m. kickoff at FHS Field.

Times & Transcript | Sports - As published on page C3 on October 14, 2006
Highlanders gain share of first place
Titans can take over spot with home win today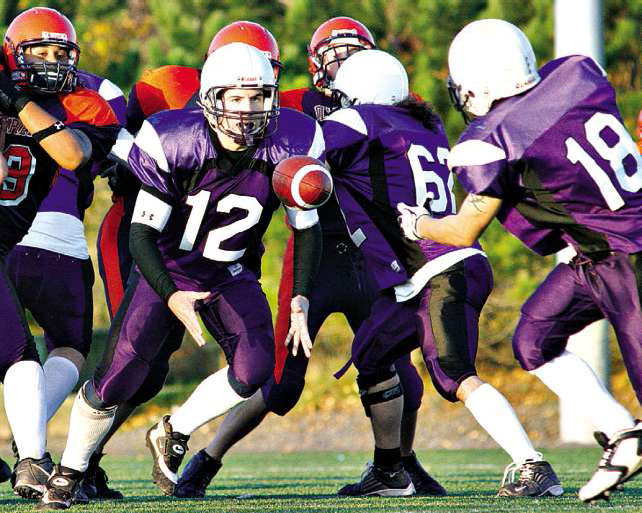 (VIKTOR PIVOVAROV/TIMES & TRANSCRIPT)
MacNaughton Highlanders weren't going to waste their opportunity this time around.

When MacNaughton and the Riverview High Royals met a month ago in Riverview, the Highlanders' game-winning Hail Mary touchdown pass was called back on a penalty. They had to settle for a 7-7 tie.

MacNaughton didn't forget about it.

Veteran pivot Eric Daigle scored a touchdown on a quarterback keep with 3:43 remaining to lift the Highlanders to a 14-10 win over the Royals in New Brunswick High School Football League 12-man division action at Rocky Stone Memorial Field last night.

"We wanted to beat them pretty bad," Daigle, the Grade 12 quarterback, said after the victory.

"It was a good game and we played our hearts out. We wanted this game so bad and we were looking forward to it all week long."

With the win, MacNaughton (4-1-1) moved into a first-place tie atop the Eastern Conference with Riverview High (4-1-1).

However, the third-place Tantramar Titans (4-1) can take over first place if they beat the fourth-place Harrison Trimble Trojans (2-3) today at 1 p.m. in Sackville.

Also yesterday, the Moncton High Purple Knights (2-4) defeated the L'Odyssée Olympiens (0-6) 28-21.

Later at Rocky Stone, the Highlanders and Royals engaged in another tight, defensive battle that wasn't decided until very late in the fourth quarter.

Trailing 10-7, MacNaughton drove down the field with more ease in the second half and had its chances at the end zone, but tailback/kicker Nathan Cormier missed a pair of field goals from 41 and 25 yards.

But with Daigle hitting receiver Nick Kaminsky with passes and Cormier supplying the ground game, the Highlanders finally got their best chance with just under four minutes left to play and made the most of it.

Daigle, who threw the Hail Mary pass four weeks ago in Riverview, scampered to the end zone from two yards out on a quarterback keep to lift MacNaughton to the victory.

"We came in with a different mentality this time. We really needed this win and we came out hard to get it," Daigle said.

"We wanted to come out and make a statement against a very good team," Highlanders head coach Ed Wasson added. "We've been trying to build and get stronger at the right time of year. Both of these teams are well-coached and you have to make the most of your chances."

Royals opened the scoring early in the first quarter when Tom Budd's interception led to a touchdown run by Dan Fawcett.

Justin Vaughan replied for the Highlanders shortly after with his own touchdown run.

Andrew Lewis kicked a 30-yard field goal for Riverview High.

Royals led 10-7 at halftime, but could have been ahead by even more. On the final play of the first half, they pulled off a fantastic fake field goal play and Greg Diamond raced towards the end zone, but was tripped up on MacNaughton's one-yard line.

"It was exactly the type of game we figured it would be. With two good teams, the team that makes the fewest mistakes is going to come out on top and we made too many mistakes," Riverview High head coach Mark Lenehan said.

"Every time we got going offensively in the fourth quarter we shot ourselves in the foot with penalties. We just couldn't get the momentum."

Meanwhile, the J.M.A. Armstrong Cougars (2-3) host the Simonds Seabees (3-2) today at 1 p.m. in Salisbury in 10-man division play.

Daily Gleaner | Sports - As published on page B1 on October 13, 2006
Blues, Lions lock horns on gridiron today
It's another busy weekend in the New Brunswick High School Football League as all three local teams will be playing at home, or at least close to home.

Action kicks off this afternoon at 3 p.m. as the Leo Hayes St. Mary's Lions host the Oromocto High School Art World Blues at Leo Hayes Field. Note the earlier than usual start time to accommodate the early onset of darkness at this time of year.

This meeting of relatively local rivals doesn't have a catchy nickname, like the North-South Bowl featuring the Lions and Fredericton High School, but the "Two Teams In Need of a Win Bowl" might suffice.

It's not catchy, but very true.

Both the Lions and OHS have fallen on hard times this season. The Leos are 0-5 while Oromocto is 1-4. OHS currently holds down the last western division playoff berth. They have an identical record to the Kennebecasis Valley Crusaders, but have beaten the Crusaders in their lone head to head meeting.

KVHS will have their hands full tomorrow when they visit the Fredericton High School Black Kats in a 1 p.m. kickoff. The Black Kats are 5-0 and have yet to be seriously threatened in a game this year. Their closest contest so far has been an 18 point victory.

Leo Hayes needs a win this afternoon and likely another in their season finale next week on the road in Hampton to entertain hopes of playing beyond next weekend.

It's been a rough stretch for the Lions who have met the Black Kats in two of their last three games and have been outscored 106-6 in the process.

The Blues also are on a downward path: they've lost three in a row and have been outscored 94-28.

"But we've had plenty to be optimistic about," said Blues' special teams coach Dave Wilson.

"We continue to improve, it doesn't show like it might on the scoreboard because we've been up against some very good teams. But we have nothing to hang our heads about because the kids keep competing."

While their record isn't that much better than LHHS because of tiebreakers and such OHS just needs to win today to assure themselves of the final spot a circumstance made all that more crucial because their only remaining game after today is at home to the Black Kats.

On the other side of the competitive coin, the Black Kats need a win tomorrow to assure themselves of home field advantage leading to the Nov. 11 Ed Skiffington Championship game at Moncton's Rocky Stone Field.

Mathematically both Hampton and Saint John High, each 4-1 on the season, can still catch the Black Kats for first place. But they need to win both remaining games and FHS would have to lose both. One of the two will be eliminated today since Saint John and Hampton go head-to- head in Hampton.

NB Telegraph-Journal | Sports - As published on page B8 on October 13, 2006
Redhawks have something to build on after first win
Football Rothesay High faces undefeated HVHS on Saturday at 1 p.m. at Shamrock Park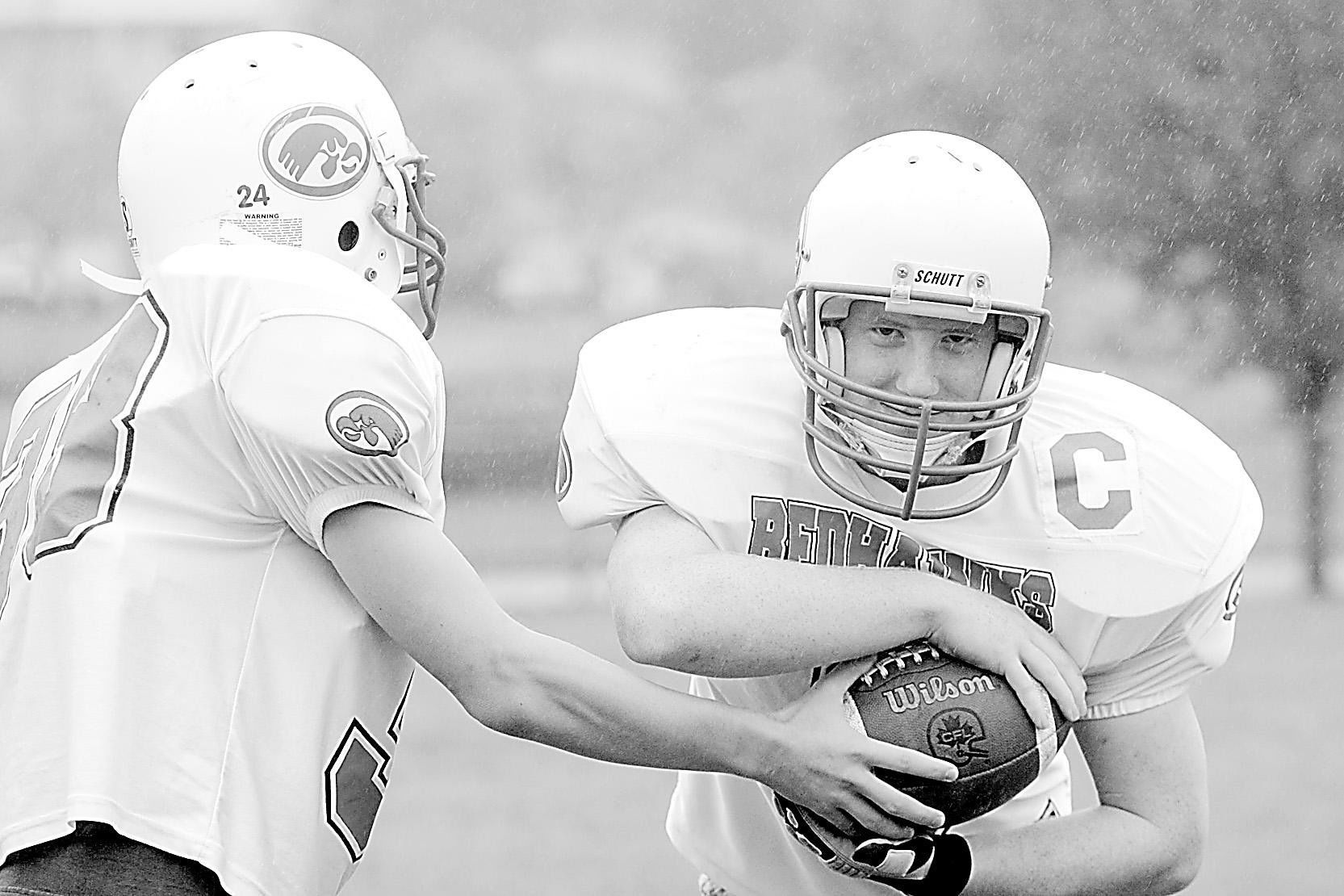 (PETER WALSH/TELEGRAPH-JOURNAL)
ROTHESAY - For a team with just one win in five starts this season, you'd hardly expect such an upbeat attitude from its coach but that's the way things are for Rothesay High Redhawks football coach Bob Cote.

So far, so good is how he looks at it.

The Redhawks are coming off a season where they posted a record of 5-2 and were stunned by St. Stephen in the provincial semifinal for the 10-man division championship. This year, however, the wins have been more difficult to come by.

Rothesay High is coming off a 27-6 win over St. Malachy's and have their sights set on catching the J.M. Armstrong Cougars of Salisbury, who currently hold the fourth and final playoff berth.

But it won't be easy. Next up for the Redhawks are the undefeated Harbour View High Vikings (5-0). The teams will tangle on Saturday at 1 p.m. at Shamrock Park.

"We start off every game the same way," said Cote. "We go in thinking we should win or else we wouldn't play the game. But our goal is to make it closer than we played them in the first game to show that we improved."

That was a 36-13 setback

One other 10-man division game on Saturday has the Simonds High Seabees travelling to Salisbury to take on the Cougars at 1 p.m.

Action tonight has the St. Stephen High Spartans travelling to Shamrock to tackle St. Malachy's at 7 p.m.

In Western Conference 12-man action today, Oromocto travels to Fredericton to take on Leo Hayes at 3 p.m.

In Eastern Conference 12-man action tonight, L'Odyssee will take on Moncton High at Rocky Stone Field at 4 p.m. and Riverview visits MacNaughton at 7 p.m. at Rocky Stone. On Saturday in the Western Conference, Kennebecasis Valley visits Fredericton High at 1 p.m. and Saint John High travels up the highway to take on Hampton at 1 p.m. The only Eastern Conference 12-man contest on Saturday has the Harrison Trimble Trojans visiting the Tantramar Regional High Titans at 1 p.m.

"This is definitely a rebuliding year for us," said Cote. "We have six returnees. We figure we'll have about 21 returning next season."

Knowing that, Cote said there is plenty of reason for optimism within the Redhawk camp.

"I really have to say that attitude depends on the makeup of the group you have on your team," he said. "With this particular group, we have a good blend of 10s, 11s and 12s. It's a good mix of youth and maturity."

After their victory over St. Malachy's and finally getting into the win column, you can understand why Rothesay High has a little bit of a spring in its step these days.

"We got a lot of good things to build on," Cote said. "We have a strong core. Every game the kids learn a little bit more and they understand what is required in terms of effort and attendance at practice.

"The strength on our team is being able to execute what we practice," said Cote. "If you're asking what side of the ball is better, they're pretty equal. We don't rely on any one individual.

"My quote the last game was , 'I'm looking for hearts and heroes", said Cote. "Every game there is a hero and that hero is different in every game."

Times & Transcript | Sports - As published on page D3 on October 13, 2006
Unbeaten Royals not looking at standings
Riverview High wants to be prepared for upcoming high school football playoffs
Just five weeks ago, Riverview High Royals head coach Mark Lenehan looked ahead at the New Brunswick High School Football League 12-man division season and expected his team would be in for a rebuilding year.

Riverview High had lost 20 some veterans from last season and the young team was set to begin the year with a nucleus of Grade 11 players.

Five weeks later, the Royals look more like contenders than pretenders.

Riverview High has roared out to a 4-0-1 start to the 2006 campaign and sits in first place atop the six-team Eastern Conference with just two regular season games remaining.

"I don't know how to explain it," Lenehan, in his second year as Royals head coach, said this week.

"I guess it's just been hard work, we don't have any big secrets. There's no big strategy with us."

Riverview High plays the MacNaughton Highlanders tonight at 7 p.m. at Rocky Stone Memorial Field in a key Eastern Conference matchup.

Also today, the Moncton High Purple Knights and L'Odyssée Olympiens meet at 4 p.m. at Rocky Stone.

Riverview High sits in first place, one point ahead of the second-place Tantramar Titans (4-1) and two points in front of third-place MacNaughton (3-1-1).

Harrison Trimble Trojans (2-3) are fourth, Moncton High (1-4) is fifth and L'Odyssée (0-6) occupies the basement. The top four teams make the playoffs.

Royals can move one step closer to locking up first place in the Eastern Conference with a win tonight, but Lenehan said that's not on the team's radar.

"We just want to play good, solid games from here on in. We want to finish the regular season strong and get some good games under our belt, so we're ready for the playoffs," said Lenehan, who admitted he's somewhat surprised by his team's strong showing through the first five weeks of the schedule.

"I figured, realistically, we would probably be around third or fourth place at this point, fighting for a playoff spot, but this has been great."

Riverview High is coming off a big 37-6 road win over previously unbeaten Tantramar Saturday in Sackville.

The only blemish on the Royals record is a 7-7 tie with MacNaughton during Week 2. Another battle is expected tonight.

"We expect the same thing from them this time. They're a good team and it should be another good, hard-hitting game," Lenehan said.

"We don't really prepare for a specific team. With a young team, you just go out and play your own game and not worry so much about the other team."

Lenehan said a big factor in the Royals' strong play this season is the quick development of his Grade 11 players who have learned on the job.

"With younger players, they can't deal with as many distractions. They just have to concentrate on what they're doing and that's what we've done so far this year," the coach said.

"We've got them just concentrating on practising and getting better each day and each week and then let it happen on Fridays and just hope for the best."

Tantramar hosts Harrison Trimble tomorrow at 1 p.m. in Sackville.

In the Western Conference, the defending provincial champion Fredericton High Black Kats lead the conference with a 5-0 record, followed by the Hampton High Huskies (4-1), Saint John High Greyhounds (4-1), Oromocto High Blues (1-4), Kennebecasis Valley Crusaders (1-4) and Leo Hayes Lions (0-5.).

Meanwhile, the J.M.A. Armstrong Cougars (2-3) host the Simonds Seabees (3-2) tomorrow at 1 p.m. in Salisbury in 10-man division play.

Daily Gleaner | Sports - As published on page B3 on October 10, 2006
Officials need to review unbalanced schedule in high school football

The standings in the New Brunswick High School Football League, at least in the 12-man division, are an illusion.

The records of the teams are highly suspect because of the quirky schedule adopted for this season. The league decided to do away with crossover games between the east and west this year, meaning all seven regular season games by each team would be against divisional opponents.

Now in previous years it was far from perfect. You played everybody in your division and then a couple of teams from the other side. The flaw there was you could draw the first place team in the other division or the last place team. It was Russian roulette.

So this year, you play everybody in your six-team division, accounting for five games. Then you play two additional games against, it seems, two random opponents.

It does appear some thought had been given to geographical rivals, but not always. For example, Hampton High has two meetings against Leo Hayes High School, hardly the guys down the block.

The real problem is not mileage but more the degree of difficulty. The best example of this can be explained by taking two teams of fairly even ability, both middle of the pack in terms of expectations: the Oromocto High School Art World Blues and those same Hampton Huskies.

Despite stacking up fairly evenly on paper, OHS is 1-4 while the Huskies are 4-1. And while injuries and all sorts of factors are involved, the biggest reason for this is the opponents on each team's schedule.

The Blues opponents in their five games to date have a cumulative record of 18-7 so far. Hampton's five opponents have a total record of 8-17. Will it even out in the two remaining games? No, it won't, Hampton's two remaining games are against teams that have a combined 4-6 record, Oromocto's 5-5.

So just going by records today, with five of seven weeks played, Hampton's season opponents have a 12-23 total record while the Blues have a group of opponents who have a 23-12 slate.

That really isn't right. It skewers the standings to a degree. Fredericton High School is 5-0 this week and probably that is a fair record. However, it should be noted that of the seven games on their schedule, five of them are against opponents with a combined 2-13 record, two with OHS and Leo Hayes and one with Kennebecasis.

I'm pretty sure FHS would still be 5-0 today, but they only meet the second place teams once each and they play the last place team twice.

It has been an arduous season for rebuilding Leo Hayes. Two games against FHS in a three-week span, both lopsided defeats. Oromocto High brought back just four seniors and they need competitive games to bring their team along. Instead, they get four games out of seven against Saint John High and FHS. If nothing else they will develop character if not confidence.

There is no easy solution to this problem; the schedule will never be right because there are too many teams to play each team twice, and too much time to play each team just once. This season's scheduling plan is however the worst of all possible plans.

A couple of suggestions though: perhaps go back to crossover scheduling. Or do away with the first round of the playoffs. There are so few upsets that it isn't worth it and some scores are embarrassing because first place teams geared up for the win play last place teams who often are psychologically and physically beaten down from the season.

That would allow for one more regular season game and there's a better chance at balance if you play three teams twice.

Or go to three divisions of four teams. First and second make the playoffs with two wildcards from the teams with the best records. Play each team in your division twice which is six games, then have your three rounds of playoffs if you want that.


In Atlantic Conference football the Mount Allison Mounties won their first road game since 1999 on Saturday, beating St. Francis Xavier. It was their first win of any sort in more than four years.

If there was ever an example of a powerful alumni, it is in the fact that the Mount Allison Mounties football team still exists in this very expensive sport while hockey and basketball have long fallen by the wayside as far as competing in the CIS.


UNB does many things right in promoting their sports, however they can push big soccer weekends until they are red and black in the face and will not capture any interest from the city until football is back on campus.

It's just true. Their sports fans are waiting for hockey season to start and that's when they will start to spend their money. And that includes contrived hockey tournaments that are basically exhibition games.

Mike Power can be contacted at mpower@dailygleaner.com. His weekly column dealing with schoolyard events appears Tuesdays.