Preseason

Daily Gleaner | Sports - As published on page B1 on September 8, 2006
Lots of new Blue blood
It could be a wild race to see who gets the team's rookie of the year award this year for the Oromocto High School Blues varsity football team.

The OHS Art World Blues will definitely be a work in progress when they line up against the Fredericton High School Black Kats Saturday at 1 p.m. to open their season at FHS Field.

The game will be a rematch of the two finalists from last year's Ed Skiffington Cup game played on that same field and won 26-9 by FHS. However, other than four returning veterans, any other members of the team who were at that game bought a ticket to get in.

"I guess (FHS) won't know much about us," said OHS coach Rob Wilson. "That's a positive. On the other hand, I guess everybody knows we graduated 24 of 28 players from last year.

"But if you think back to three years ago we came back with six seniors and endured what was a long tough season. That was the down side, the growing pains. But because of that we were able to come though that and had two great seasons over the past two years with those young kids who took that beating in their first year."

Returning from last year's provincial finalist squad are Zach Smith, Ryan Robinson, Tim Degaust and Will Haley.

The players who have moved on reads like a who's who of OHS football, or like last year's team program. The likes of Jeremy Biggar, Eric Smith, Kyle Roesler, and...well, best stop there because the list goes on a while.

"Having made that one comparison to three years ago I think it stops there," Wilson said. "In all honesty, I think we are a more athletic group this time around, I think the growing time won't be as long as it was. We will have some tough days, but I think the gap will close quicker than it did three years ago."

Of course, with 26 rookies the pressure will be on the coaching staff to teach what needs to be taught. Fortunately Wilson and company were the league's coaching staff of the year last season.

"As coaches, we're kind of enjoying our role," Wilson said. "The last two years we had a very accomplished group of players, and they were very confident in their abilities.

FOUR CAME BACK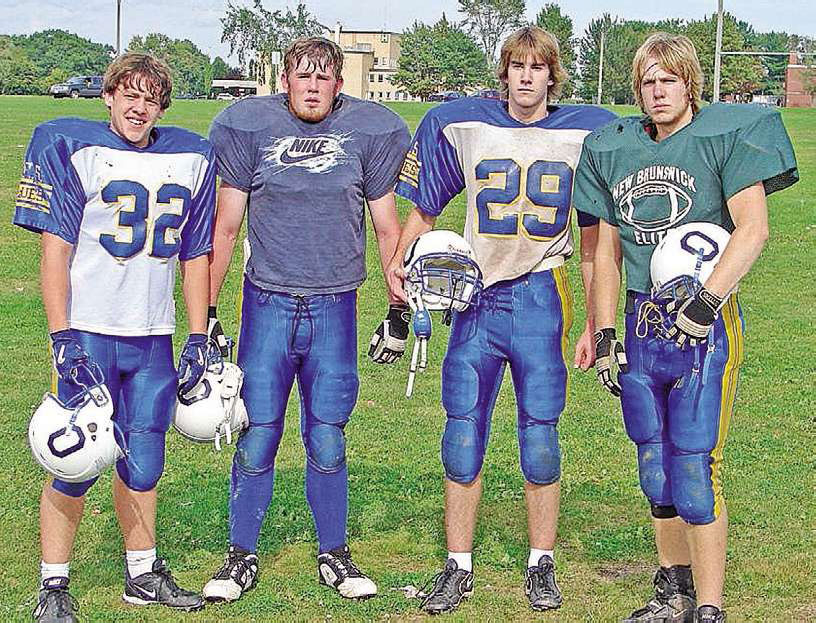 (THE DAILY GLEANER/MIKE POWER PHOTO)
"This year we're back to coaching a bunch of kids that are excited to learn. We're really enjoying breaking them into smaller groups and working hard on things. I guess we feel we're making more of a contribution this year."

Wilson is still mixing and matching who goes where. Rookie quarterback Jordan Heather is a big part of the future for example, "but we don't want to feed him to the lions right away," said Wilson. "We aren't going to put a lot of pressure on him right away."

And if they don't want to feed any rookies to the Lions then they probably don't want to be feeding anyone to the Black Kats either. The off-season has treated Fredericton High School's football team much better than their opponents in last year's final. Therefore expectations for tomorrow's game are, to say the least, limited for OHS.

"Fredericton should be the team to beat," Wilson said. "It's pretty hard to hide that fact from our kids. So what we are going to do is get a feel for some things in this game. We're going to look how our guys stack up in terms of personality and attitude. Will they keep fighting no matter what we run into against FHS or how the game unfolds?

"We want to it to still be a game no matter the score, We want to see our guys go out and keep doing what they can do for the whole game."

From that point of view the NBIAA football lords haven't done the Blues any favours. Having discontinued interlocking play between east and west divisions each team will play the teams in their own division once, plus one game against a team determined strictly at the discretion of the schedule maker. The Blues extra game is against the Black Kats.

"This year has so much upside we can't be worrying about that," Wilson said. "By the second or third week we think we will have a competitive team and a couple of weeks after that we will have improved that much more again.

"I could tell you that with only four kids back things are going to be terrible, but I just don't feel that way, they might be tough here and there along the way, but the big picture is a bright one for us in the long run."

The season kicks off locally this afternoon at 4 p.m. at Leo Hayes Field when the St. Mary's Lions face the Hampton Huskies
NB Telegraph-Journal | Sports - As published on page B14 on September 8, 2006
ON A FOOTBALL 'CRUSADE'
High School KVHS is graduating from the 10-man division to the 12-man circuit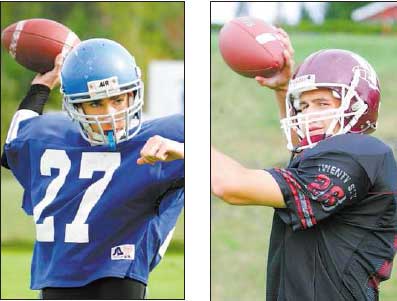 (Cindy Wilson/Telegraph-Journal)
QUISPAMSIS - After two years atop the 10-man division of the New Brunswick High School Football League, the Kennebecasis Valley Crusaders are heading into the great unknown.

The Crusaders begin life in the province's 12-man high school football division Saturday with a 1 p.m. home date against an old foe - the Saint John Greyhounds.

It's all part of a hectic weekend as the loop formally gets things going in pursuit of a pair of provincial championship crowns.

"It is an unknown," said KVHS coach Rob Martell. "Some people are saying that we are going to get our butts kicked but I have to think we have a decent enough program to compete."

The Crusaders went 17-0 the past two years en route to a pair of 10-man division championships and were more than impressive along the way. For example, in the regular season last year, they outscored their opposition 284-63.

So certainly some of that ability has to transfer to the new look squad of 2006, one with just three players back from 2005.

"Even during the past two years, we never talked about winning," said Martell. "We talked about keeping the kids focused on improving themselves and improving every game. Our approach is the same this year."

If the Crusaders need a program to examine, they have to look no further than the Greyhounds, who won the 10-man title in 2003 and then went 4-2-1 in the 2004 12-man season.

Last year, Saint John went 3-3 before upsetting Riverview in the opening playoff game.

The Greyhounds then fell to Oromocto in the provincial semifinal.

The last time the Crusaders were in the 12-man conference was 2000, when the team struggled through an 0-7 campaign.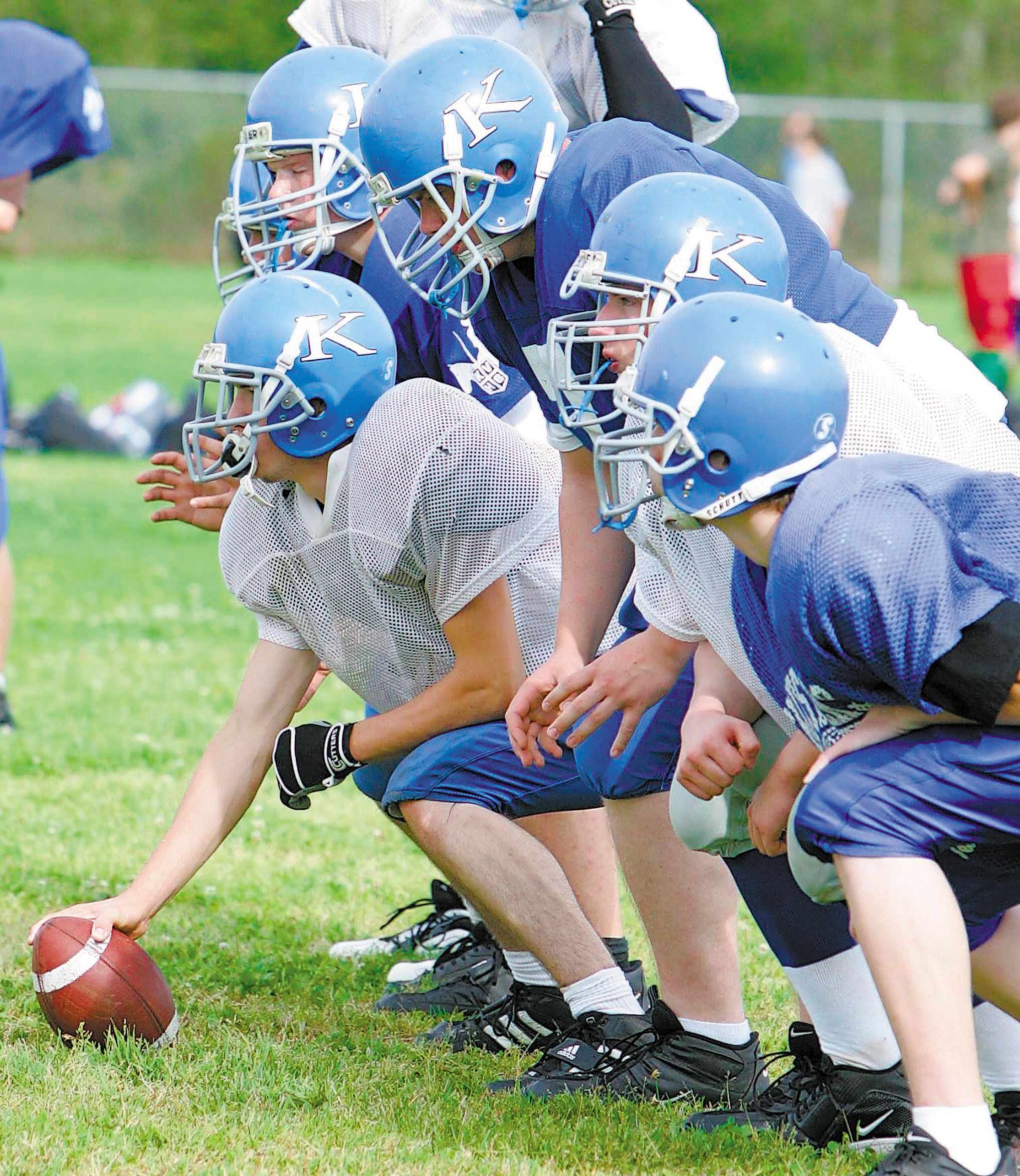 (Cindy Wilson/Telegraph-Journal)
Yet, the squad had enjoyed success at this level in the past, mote notably in 1998, when Kennebecasis Valley posted a 5-1 record and advanced to the provincial semifinal before losing to Fredericton.

'We are trying to build a tradition here at KVHS," said Martell, who ran into some difficulty fielding a team despite the past success. 'We felt we should have been snowballing a little better but we are competing with some other sports and I don't think football is the top priority."

Action starts today with games in both the 12-man and 10-man divisions.

In the 12-man division, MacNaughton travels to Moncton today at 4 p.m. at Rocky Stone while Harrison Trimble and Riverview meet - also at Rocky Stone - at 7 p.m. and Leo Hayes hosts Hampton at 4 p.m. in Fredericton.

In other action Saturday, Tantramar and L'Odysee of Moncton meet in Sackville at 1 p.m. while Fredericton tangles with Oromocto at 1 p.m.

In the 10-man division, the Harbour View Vikings entertain Rothesay tonight at 6:30 p.m. at Shamrock Park.

The Vikings, who posted their first losing season in three years last year, are looking to return to the form that lifted them to the provincial 10-man final in 2003 and 2004.

"It is a little early to tell but I expect we will be competitive," said head coach Mike Murphy. "With any luck, we will be contenders."

The biggest difference, says Murphy, is the experience gained by the majority of his players last year.

And despite the 1-6 record, he says it was rewarding in terms of feedback from players and parents.

"I had some players come and say thank you, this is the best thing I have ever done," Murphy explained.


Quarterback Jordan Blizzard, a senior with plenty of game experience, is the cornerstone of the team - "He's talented, tough and he shows a lot of leadership," said Murphy.

He'll be joined by running backs Mike Curwin and Jeremy Monaghan, an Australian exchange student wh has experience in Aussie Rules Football and rugby.

Last year, Rothesay blanked Harbour View 41-0 after the Vikings earned a 41-14 victory in 2004.

Elsewhere on Saturday in 10-man division play, St. Stephen hosts St. Malachy's at 1 p.m. and Simonds hooks up at home with JMA Armstrong at 1 p.m.

In the 12-man division, Kennebecasis Valley, Hampton and Saint John are part of the Western Conference schedule, which includes Oromocto, Leo Hayes and defending champion Fredericton.

Each teams plays seven regular-season games before the playoffs begin the final weekend of October.

Saint John will play a home-and-home with Oromocto and Kennebecasis Valley, Hampton will play a home and home with Leo Hayes and Kennebecasis Valley in the new format.

Rothesay, St. Stephen, Simonds, Harbour View, St. Malachy's and JMA Armstrong will fight for top honours in the 10-man division.

JMA is back after a two-year absence.

Each team will play eight regular season games before the conference semifinals Nov. 3-4.

The championship games in both the 12-man and 10-man divisions are slated for Nov. 11.



Times & Transcript | Sports - As published on page D1 on September 8, 2006
High school football rivalries alive and well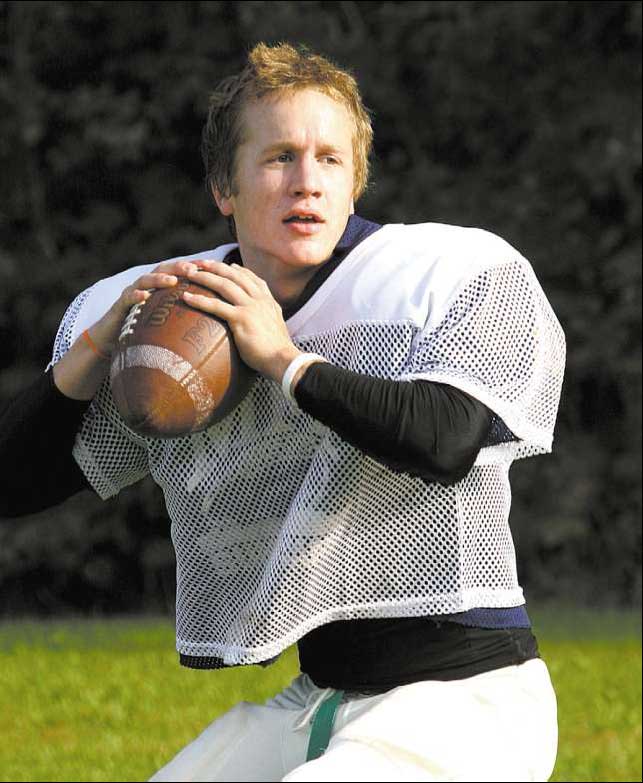 (RON WARD/TIMES & TRANSCRIPT)
More games between rivals. Tight, exciting football. And a dogfight to the playoffs.

Those are the story lines in the Eastern Conference as the New Brunswick High School Football League 12-man division regular season opens today.

The division has gone back to conference play for the regular season and first round of the playoffs after two years of inter-locking play between the Eastern and Western Conferences.

"We changed the format and we really think it will keep the local rivalries going and give them a little more intensity," said Tantramar Titans head coach Dave Burns, also the Eastern Conference chairman.

"We want to give fans what they want to see and that's more conference play and more playoff games between rivals."

The Eastern Conference features Tantramar, MacNaughton Highlanders, Harrison Trimble Trojans, Riverview High Royals, Moncton High Purple Knights and L'Odyssée Olympiens. Mathieu-Martin Matadors are not fielding a team for the second straight year.

The Western Conference is comprised of the defending champion Fredericton High Black Kats, Oromocto High Blues, Leo Hayes Lions, Saint John High Greyhounds, Kennebecasis Valley Crusaders and Hampton High Huskies.

Moncton High hosts MacNaughton at 4 p.m. and Harrison Trimble takes on Riverview High at 7 p.m. in a pair of games today at Rocky Stone Memorial Field.

Tantramar is home to L'Odyssée tomorrow at 1 p.m. in Sackville.

With each of the six teams playing seven regular season games - all against conference rivals - Burns expects a very tight and exciting Eastern Conference.

"This conference is very tough and always has been. The coaches are outstanding and have been around a long time and have a good feel for the game. You have to come prepared in this conference or else you'll fail," said Burns, entering his 12th season as Tantramar's head coach.

"The athletes today are big and athletic and you get a lot of cross-over athletes - elite basketball and hockey players - coming out for football and that's making the game even better."

Following is a look at the Eastern Conference teams:

Tantramar

In Sackville, the Titans have 30 players returning from last year's team, which went 3-3 and lost to Fredericton High in a provincial quarter-final.

"It's probably the most returnees we've had in a long time for such a small program," Burns said.

"Our goal is the same as every year - to make the playoffs. Along the way, we want to win some games, get into the playoffs and take it from there."

Key players include: quarterback Joey Burns, slotbacks Stephen Bohan and Callum Hardie, defensive lineman Preston Spence, linebackers Justin Richard and Scott MacDougall and safety Devon Joyce.

MacNaughton

Highlanders welcome 20 newcomers up from their bantam program, which won the New Brunswick title last fall, to go along with 18 returnees.

"I think we've had the best JV program in the city for the last little while and it's really helped the arsity team," head coach Ed Wasson said.

"There's always an adjustment period to get used to the size and speed of this level, but they can play a big part."

Key players include: quarterback Eric Daigle, slotback K.J. MacNeil, centre Brendan Wallace, linebacker Justin Cook, safety Bryce Wade and defensive lineman Justin Merrithew.

Highlanders were 3-3 and fell to Fredericton High in a provincial semifinal last year.

Harrison Trimble

Head coach Perry Kukkonen feels his Trojans will be well-balanced on both sides of the ball.

"We've got a good core of our O-Line back, a couple of guys who ran the ball for us and a couple receivers back. On defence, we have three or four guys on our D-Line back and three or four linebackers back and that makes a big difference," said Kukkonen, who has 18 veterans back from last year's team which went 3-3 and lost to Oromocto High in a quarter-final.

"We want to be certain we're competitive in each game we play and it will come down to execution and doing the little things right that make all the difference."

Key players include: receiver-turned-quarterback Nicholas Kukkonen, running back Jordan Kenny, receiver Matt Horsman, offensive linemen Tyler Gillcash, Matt LeBlanc and Tom Garland, defensive linemen Corey Gillcash, Tyson Gillcash and Mark Franklin and linebackers Ben Kinden and Nathan Jeffrey.

Riverview High

Royals won the Eastern Conference regular season title with a 4-2 record last season, but were upset by Saint John High in the opening round of the playoffs. The team has lost many skill position players.

"You know how teams kind of go through three-year cycles, well I think we're at the beginning of a three-year cycle," said second-year head coach Mark Lenehan, who has 16 returnees.

"A realistic goal for us is to get one of those four playoffs spots in our conference."

Key players include: quarterback Greg Diamond, slotback Andrew Lewis, tailback Dan Fawcett, fullback Ben LeBlanc, defensive lineman Matt Sollows, linebackers Mike MacLeod and Tom Budd and defensive back Mike Miller.

Moncton High

Purple Knights are chasing a playoff berth after missing out on the post-season in each of the last two years. Head coach John Allanach has 20 veterans back from last year's team, which went 1-5.

"We feel we're moving in the right direction and have taken some steps forward. We're just better able to play some football this year and have a better understanding of the game with more veterans," Allanach said.

"We'd like to compete in our games and one of our goals is to make the playoffs."

Key players include: quarterback Ryan Wareham, tailback Justin Lafrance, slotback Chad Simpell, offensive lineman Jacques Melanson, defensive lineman Shawn Wallace, linebackers Shawn Evans and Adam Proud and defensive back Andrew Waddup.

L'Odyssée

Olympiens are looking for their first-ever win after going 0-6 in their inaugural season a year ago.

New head coach Mike Gaudet feels the team will make major steps forward in its second season with 18 returnees.

"We should be much more competitive than last year and we don't want to stop at one win, that's for sure," said Gaudet, an assistant to former bench boss Terry Kennedy last season.

"Everyone has the fear of being the first team to lose one to us, so we've got that working for us. I think we have a faster and more athletic team than last year and we're looking forward to an improved season."

Key players include: quarterback/running back Pierre Mouawad, quarterback Caleb Jordan, centre Pat Richard and linebackers Marc Daigle and Liule McKennen.
Daily Gleaner | Sports - As published on page B1 on September 7, 2006
Don't cross Black Kats' path

FOOTBALL LESSONS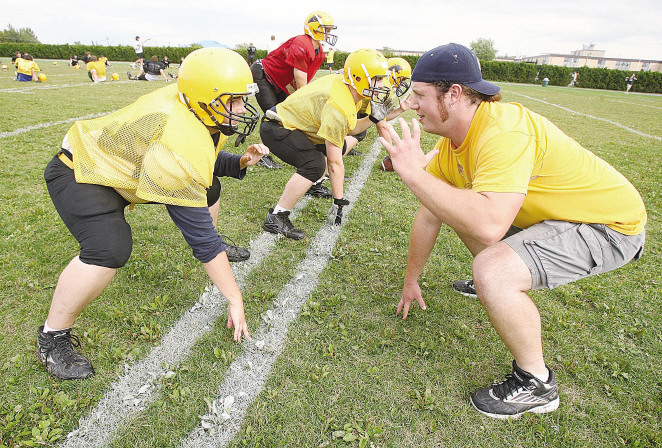 (GLEANER/STEPHEN MACGILLIVRAY PHO)
Just as it was last season, it will probably be bad luck for a Black Kat to cross your path this year in the New Brunswick High School Football League.

The defending league champion Fredericton High School Black Kats open defence of the provincial pigskin championship Saturday afternoon at 1 p.m. against the Oromocto High School Blues in a reprise of last year's final.

While the Black Kats graduated an awful lot of talent, including Andrew Hubbard, the league's outstanding player, receivers Justin Conn and Bobby McIntyre and running back Derek Madsen from last year's offensive juggernaut, they have some solid blocks to build on as they rev up for another championship run.

Quarterback Andrew Hickey, for instance, returns to run the offence, and while veteran head coach Larry Wisniewski says "we have to find receivers, we have to find a running back, we have to find an offensive line..." the Kats always seem to rise to the challenge.

Consider that only once in the 13 years since Gridiron New Brunswick began keeping such records have the Black Kats lost more than one regular season game. They're 69-10 in that span.

So, even though there are some key elements to replace - including a klatch of coaches, from Don Davis to Nathan Stokes to Murray Appleby to Eric Neilson to Jared Harding - well, there are enough returnees and enough expertise that the Kats figure to be playing football into November again.

"We've lost a lot of guys, especially on offence," said Hickey. "But I think we have the guys that can step in and step up to the level we had last year. I think we'll get better from week to week. I'll be disappointed if we don't get to the finals. But we'll have to take it week by week."

And besides, they still have some of the biggest and toughest players from the defence which was the biggest and toughest in the province last year. They surrendered just 15 points in six regular season games a year ago, and they have some of the giants back: linemen Ben Thompson and Zach Piers on the D-line - Thompson will also be the key veteran on the O-line - and linebacker Dan Reid in the middle, along with Fraser Boldon. All-star defensive back Ryan Soles crosses the bridge from Leo Hayes to be an anchor in the backfield.

"Less to do, in a sense there, in terms of finding people," Wisniewski said, "more to do in terms of building the defence into what kind of unit we need it to be."

Wisniewski figures the process of plugging players in and putting a team together will take "a couple of games."

We have "four or five guys we're looking at" to join Hickey in the offensive backfield, said Wisniewski. "It'll depend on who plays well. Running backs are game guys. In practice is one thing, and running through drills is something else. But in a game situation, with a bunch of people looking for your head, it's a whole different dynamic. We'll find out in a game who's prepared to be a running back and who's not."

The Kats face the same dilemma among the receiving corps as well.

"We'll see who's prepared to catch the ball in a lot of traffic where kids are not so happy that you caught the ball," he said.

But Hickey provides the Kats with a huge head start.

"Everything that we do will have to start around him, and we'll see how many other pieces we can get in," said Wisniewski.

Hickey has found one target he likes in veteran David Carr, who saw some time at slot back last year.

In terms of secondary receivers, "that's a good question," said Wisniewski, grinning. They're auditioning "10 or 12 more," he said. "The rest of them are unknowns and we've never seen them play football at this level."

The staff are still sifting through some 24 youngsters up from the JV Black Kats team that finished with a 4-2 record last year. And there's a new look to the staff this season too, now that you mention it. Wisniewski returns, of course, ever the bundle of boundless enthusiasm and energy. But there are new pieces to fit into the coaching staff too.

"We lost five guys who worked together for a long time, and the great thing about it is, they all know what I want and I know what they do," said Wisniewski. "It's the kind of relationship that builds over time. But we have good people, and we'll find our way there."

The new group includes Trevor O'Leary in charge of the offensive line, Jeff Taylor, an FHS alum who came over from Leo Hayes on defence; Issac Grobe to work with the defensive backs and Kyle Currie to work with the linebackers. Chuck Proudfoot will work with the receivers, whoever they might be. O.J. Burnett works with the running backs and special teams and Ian MacMillan (receivers) return as veteran staffers, along with offensive co-ordinator Gary Norcott.

"We just have to work together a bit on the sidelines so we know when to look for the other person and when to hide from the head coach and still do what you want to do," said Wisniewski, chuckling. "Those (departed) guys all knew when to hide. The new guys have to learn when to hide."

There's nowhere for the Kats to hide though. They're annually among the power brokers in the league and annually expected to be so. Wisniewski approaches each season with apprehension.

"I'm used to being frightened," he said, laughing. "Being fearful is one of the characteristics of the job I do. I always am apprehensive. I'm apprehensive about how prepared they are to do the kind of work I know they have to do for their individual skills to develop.

"I'm always apprehensive about how they come together and the numbers that come out and how you get people working together and how you make it a positive environment for all of them. And then I want them to play well. I want them to be successful and I want them to grow into that tradition of excellence that's been at FHS for a lot of years. But with their own brand, their own variety and their own voice."



Daily Gleaner | Sports - As published on page B1 on September 6, 2006
Lions have decent nucleus back
THROWING FOR THE LIONS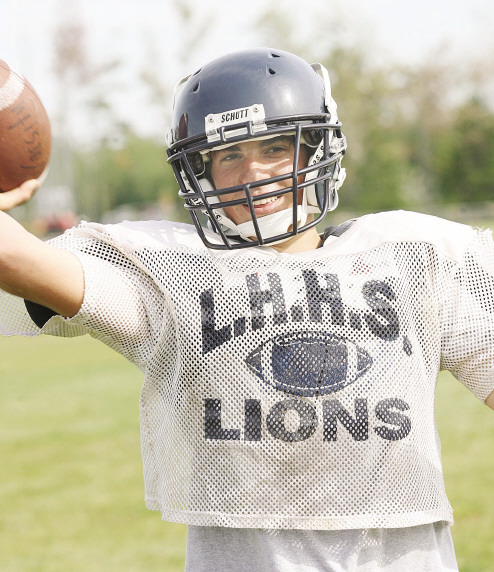 (GLEANER/STEPHEN MACGILLIVRAY PHO)
Lee Hoyt doesn't measure the success of the Leo Hayes St. Mary's Lions football team in wins and losses.

Oh, certainly, the head coach of the northside high school's varsity football team would like a victory over the Hampton Huskies Friday afternoon at 4 p.m. to kick off his sixth season at the helm.

A playoff spot in the New Brunswick High School Football League's Western Conference - a top four finish among the six teams that make up the section - is a goal, but Hoyt uses a different measuring stick.

"Especially in this sport, I don't measure their success on wins and losses," said Hoyt, who played in the Fredericton High School football dynasty in the early 1990s before going on to a five-year university career at St. Francis Xavier University.

"I measure their success on where they were and how far they've gone as a team, how they've grown from being boys to men; their responsibility level and their commitment. All those things are really key factors in football and those are the things I measure."

So the number he's using to gauge success is 52 - that's the number of kids who were out earlier this week, gearing up for Friday's home opener and the six other games which comprise the Lions' regular season schedule. The Lions have a decent nucleus back from the team that finished 3-3 a year ago, with "14 or 15" players returning and 15 more from the Northside Junior Lions JV program, which gives them a deep pool of players with a working knowledge of the game.

Hoyt is still putting the pieces of the puzzle together.

"A lot of our starters are still up in the air, and I'm not going to tip anyone off," he said.

Quarterback candidates are MacKenzie Washburn, the 17-year-old son of former CFLer Mike Washburn who is in his senior year, and Tommy Broad, a Grade 11 youngster up from JV.

Washburn "is going to play a lot of time," said Hoyt. "He's looking very good. He's a player that brings the whole package. He's a leader when he has to be, he's been around football, he's played it and he's seen it. He has good instincts. He can sense the heat and he can run and he can scramble."

Washburn has quarterback experience, but it's been a while. He gave up football for baseball when he entered high school.

"But I thought, it's my senior year, I might as well go out and play football," he said. "I'm not too smart at it yet. It's a head game and you've got to know what's going on and read the defence and stuff. The coaches and the guys who have played through high school have really helped me out a lot."

Washburn notes "a huge improvement from the first day until now. Once I get one game under my belt I think it will be a little bit easier for the rest of the season. I'm a little bit nervous, but I get a little nervous before every sport I play. I think it's good to be nervous a little bit."

Hoyt hopes the nerves settle but the progress continues.

How much heat the five-foot-11, 160-pound signal caller will get is a question Hoyt must address. The Lions' offensive line is a work in progress, but experience has shown Hoyt that the offensive line is a key plank in a team's success.

"It's one of those things you always look to improve on," he said. "If you've got a good offensive line, you'll do well. That's one of the reasons FHS has always been successful. Their offensive line has big guys who have played and come up through the system and know what they're doing. In order to move the ball, those guys up front certainly have to know what they're doing."

The Lions' O-line is young, but working under the tutelage of newly installed offensive co-ordinator Greg Holmes, a former CFLer, and offensive line coach Mike Casey, things are coming together. Grade 12 veteran Denim Henneberry is one of the anchors there.

"He's going to be a leader and a key factor in their progression," said Hoyt. Evan Underhill is another key on the O-line.

Mitch Cormier and Rob Finnamore are the running backs with Mitch Edmondson at fullback.

Among the targets at receiver will be Mike Bowser, better known as a top basketball player but putting on a helmet for the first time.

"He's very quick and has great hands," said Hoyt. "This is his first year playing high school football, but he's a kid you always love to have in your program because he brings a lot. He's got drive and he works hard."

Those intangibles are a pretty good head start.

The Lions were primarily a defensive team last season - they gave up just one point in their three victories - and Hoyt expects they'll be strong on that side of the ball again this season.

He looks to linebackers Jake Thomas and John Benson as keys there. All-star defensive back Ryan Soles has crossed the river to attend FHS for his final year of high school, but Hoyt feels they'll be solid.

They blanked the Huskies 8-0 in their head-to-head matchup last season.

"I like to think we'll be ready," said Hoyt. "The school is really behind us. Mr. Pottle (school principal Kevin) said he wanted to start the year off with a football game at home. It's a way to get all the kids enthusiastic about football. I certainly don't have a big rah-rah talk to get the kids ready, because they're playing at their home field in front of the school."

Hoyt's coaching staff has a Thomas type tilt. Josh and Billy, older brothers of linebacker Jake, are in charge of the linebackers and the defensive backs, respectively. Jay Thomas, no relation, works with the running backs. He's a Lions' alum.

Another former FHSer, Rich Pirie, looks after the defensive line.

Hoyt hovers and "likes to see what everybody is doing," he said.

"As of now, everything is in place," he said. "We're looking forward to getting the season off to a positive start."

The reigning provincial champion Fredericton High School Black Kats also play their home opener this week. They host the Oromocto High School Blues in a rematch of last year's provincial final in a 1 p.m. Saturday afternoon kickoff at FHS.


Times & Transcript | Sports - As published on page B1 on September 5, 2006

High school football returns to Salisbury
SALISBURY - Jason Chapman is a big believer that kids can learn a whole lot through sports and that's why he's smiling these days.

High school football is back in Salisbury this fall - after a two-year absence - and Chapman hopes it's the start of a new era in J.M.A. Armstrong Cougars football.

"It's good for the kids and the community and it gives the kids something to rally around, especially on Saturdays. It's pretty important to both the school and the community," said Chapman, the team's new head coach.

"It gives the kids something to be part of at the school and it gives them something to do rather than to just hang out at the corner. We've got a few kids this year that would probably be doing that if it wasn't for football."

J.M.A. Armstrong has struggled over the years because of a lack of players. The team has folded twice in the last five years due to a lack of numbers.

After a one-year absence in 2001, the Cougars returned and played in the New Brunswick High School Football League's new AA division (now called 10-man division). In its last season in 2003, J.M.A. Armstrong went 2-6 and missed the playoffs.

The Cougars will compete again this season in the 10-man division, which also includes the St. Stephen High Spartans, St. Malachy's Saints, Harbour View Vikings, Rothesay High Red Hawks and Simonds Seabees.

Chapman, a J.M.A. Armstrong graduate and former Cougars wide receiver, hopes the team is in it for the long run this time. Over 20 players have been taking part in training camp and the new head coach wants to add stability to the program.

Most of the team's players have come up through the minor football ranks playing for the Salisbury Silver Foxes under coaches Jim Gillies and Luke Killam.

"We want to have a team that can compete every year and will be around in a couple years," said Chapman, a broadbase technology and French teacher at the school.

Chapman, 27, takes over as head coach from former head coach Stewart Fraser. Fraser, the former Canadian Football League player, will stay on as a consultant.

"Football can survive in small towns and it's only as good as its people and we've got some really nice people who are running it," Fraser said.

"The lack of numbers has been the main reason for our demise in the past. Football is a disciplined sport and you have to rely on kids to be committed and disciplined and in this day and age where kids have so many choices maybe you don't get as many kids out to football as you once did.

"In a small school, it's hard to run a consistent program year after year, but Salisbury has had some good football teams in the past.

"We've won provincial championships in peewee and bantam and have had kids go on to start at university. We're really hoping that this is maybe a resurgence for high school football."

J.M.A. Armstrong opens the season Saturday at Simonds.

It hosts Rothesay High in its home opener Sept. 16 at 1 p.m.


Sean Hatchard is a Times & Transcript sports reporter. His column appears Tuesdays.